Commencement Information
Commencement is a time to celebrate your hard work and dedication as a Pirate! Orange Coast College is excited to celebrate the achievements of our graduates at the 75th Commencement Ceremony.
---
Event Program
---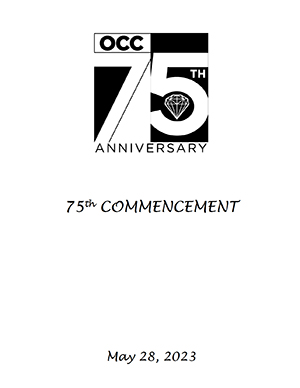 Rewatch the Ceremony
---
Event premiered on
May 26 @ 5:30 p.m.
Mark all above events on your calendar, and attend the Grad Fair and Rehearsal as your schedule permits.
Preparing for Commencement
ORDER YOUR REGALIA TODAY!

Regalia (Cap, Gown, Tassel) is required for graduates to participate in Commencement.   Graduates can visit the OCC Bookstore to purchase regalia now through noon May 26, 2023.

Purchase your regalia early! Sizes of regalia become limited closer to the day of event.  Remember to bring your "Regalia Purchase Card" that were mailed to you. Regalia purchase cards are also available at the Enrollment Center Front Counter in Watson Hall 1st Floor.

Students in Special Programs may contact your program's office for instructions on acquiring regalia:

EOPS (714) 432-5817
Guardian Scholars (714) 432-6877
Student Equity (714) 432-6847
Veterans (714) 432-0202 x25836

Students may also order personalized graduation announcements and diploma frames through Herff Jones at   www.collegegrad.herffjones.com.  Type in  Orange Coast College in the search field and the school will show as  School Name, click the school name link to continue to the ordering site.
Rehearsal & Commencement Detail for Grads
Free Graduate Parking/Drop-off
 At Lot E. Enter Student Gate #4 on Arlington and Fairview
Free Guest Parking
Lot B & C. Enter Gate #1/Main Gate or Gate #2 on Fair Dr & Vanguard.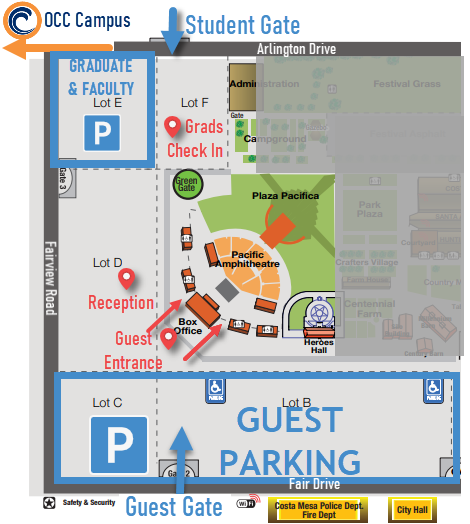 Check-in
Graduates MUST arrive BEFORE 4:30 pm. Proceed to the check-in booth near Lot F and pick up your name card.
Please do not be late – this is your night to shine!
Bag Storage
You will want to have your hands free during the ceremony and while on stage. Only bring your keys, phone, and essentials. You are encouraged to leave other items in your vehicle or at the Bag Storage Booth near check-in.
Line-up
After check-in, line up behind the colored flags in lot F. Choose any line and wait to receive a colored wristband designating your seating placement. Graduates will proceed in their lines to the staging area of the Pacific Amphitheatre when it is time to enter.
Do not change lines after receiving your wristband.
Processional
You will enter the Pacific Amphitheatre into your assigned row. Please remain in your assigned row throughout the entire ceremony.
Ceremony
The ceremony will include an address by the college president, various speakers, and the presentation of graduates.
Please demonstrate proper ceremony etiquette during Commencement. Graduates and guests are expected to silence their phones and remain in their seats for the duration of the ceremony.
Receiving your degree folder
You will be prompted to enter the stage to accept a degree or certificate folder. Your actual diploma and/or certificate will be mailed to you after the college has verified that you have met all graduation requirements. Please have your gown zipped closed before entering the stage.
Photography
Your photograph will be taken by professional photographers twice, first behind the stage and then onstage after receiving your degree folder. PLEASE DO NOT TAKE SELFIES ONSTAGE - this lengthens the ceremony.
Closing (Recessional)
After all graduates have been presented, you will be instructed to "Move your Tassel" from the right side to the left. At the completion of the ceremony, graduates will exit the Amphitheatre by following faculty into the Reception area.
Meet Guests at Reception
Immediately following the ceremony, you can arrange to meet your guests and favorite professors for refreshments at the reception area in Lot D.
Post and Share
Take lots of photos and tag #COASTGRAD2023 to your various social media accounts!
Students
To request accommodations, please email occarc@cccd.edu at least 2-weeks prior to the event.
Guests
If your guest requires physical assistance or accommodations in seating, please ask them to arrive at least 45 minutes before the ceremony start time and explain their request at the guest check-in booth. We will make every effort to assist them.
75TH ORANGE COAST COLLEGE COMMENCEMENT
FRIDAY, MAY 26, 2023
EVENT TIME
4:15 pm - 5:30 pm Guest Seating
5:30 pm - 7:00 pm Commencement Ceremony
7:30 pm - 8:00 pm Light Reception & Photo with Guests
The ceremony will start at 5:30 pm and lasts roughly 2 hours.
Plan to arrive at least 30 minutes before the ceremony start time. Seating begins at 4:15pm.
Guests should plan on reuniting with their graduates and special guests after the recessional out of the Amphitheatre into the Box Office Plaza, where all are invited to a reception to celebrate.
If you are making plans to continue your celebration offsite, it is highly recommended that any dinner reservations are planned for after 8:30pm, as it may take 15-30 minutes exit the parking lot.
GETTING TO COMMENCEMENT
Pacific Amphitheatre
OC Fair & Event Center
100 Fair Drive, Costa Mesa, CA 92626
DRIVING DIRECTION
FROM THE 55 FREEWAY
Southbound: Exit at Del Mar/Fair Drive, turn right at Fair Drive, proceed to Gate 2 (on the right).   Northbound: Exit at Newport Blvd, continue on Newport Blvd, turn left on Del Mar Avenue/Fair Drive.  Proceed to Gate 2 (on the right).  
 
FROM THE 405 FREEWAY
Southbound: Exit at Fairview Road, turn right, continue 1.3 miles to the OC Fair & Event Center, turn left at Merrimac Way to enter at Gate 3.  
PARKING
Graduates who are riding with guests can be dropped Drop-off at Lot E (Grad Parking Lot), enter through gate #4 on Arlington and Fairview.
Free guest parking is available from Gates 2 in Lots B and C. Enter through Gate #2 on Fair and Vanguard.Please do not move any physical barriers located in the parking lots. 
ACCESSIBLE PARKING
Accessible parking will be available in Lot B for persons with disabilities.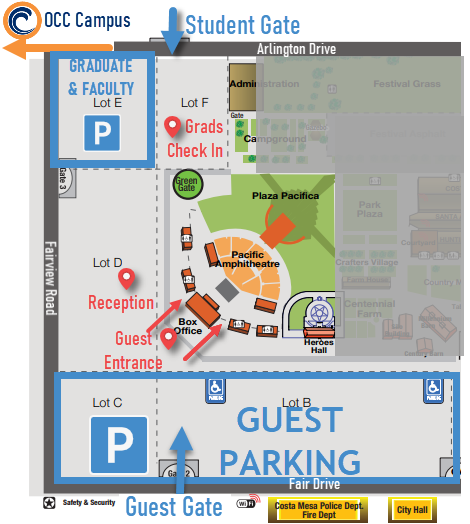 FLOWERS AND GIFTS
On-site sales of flower bouquets and leis will be available before the ceremony begin, you may also visit the Commencement Groups webpage for Orange Coast College to order bouquets and orchid leis, alumni gifts, or other graduate essentials.  
ATTIRE
Comfortable shoes are highly recommended since there will be considerable walking from the parking lot and there are stairs inside the Amphitheatre.  Temperatures fluctuate, so dressing in layers is advisable. 
CEREMONY ETIQUETTE
Given the celebratory nature of commencement and in consideration of others, guests and participants are asked to follow some basic rules of etiquette for the event.
Items that detract from the ceremony are prohibited.
Graduates and special guests are expected to remain present for the entire ceremony.
Please remain in your seats for the duration of the ceremony.
Do not block the aisles or passageways by attempting to greet or take photos with graduates and special guests.
Guests
If you require physical assistance or accommodations in seating, please ask arrive at least 45 minutes before the ceremony start time and explain your request at the guest check-in booth. 
page updated 4/25/2023 5:28pm