Orange Coast College is one of the nation's top transfer schools offering thousands of students opportunities to transfer to universities and private colleges within California and across the nation. OCC is the best choice for a quality education at an affordable price featuring exceptional facilities and the latest in technology. Students enjoy our vibrant campus life joining many of our student clubs, college and sporting events, and enrichment programs. Our 164-acre campus is located in the heart of Costa Mesa, just minutes from Southern California's beautiful beaches. Come join us!

Explore a range of academic and career paths designed to fuel your curiosity and imagination. We offer more than 135 academic and career programs, and the opportunity to reach your educational goals. Find out which one is right for you! We have classes during fall, winter, spring, and summer and is fully accredited by the Western Association of Schools and Colleges.
Orange Coast College has a proven track record of getting students to the next level. OCC is #1 community college in Orange County for combined UC and CSU transfers — as well as transfers to prestigious private universities like USC and Pepperdine — OCC is the smart choice for students looking to move on to a four-year university.
At Coast, students have access to exclusive guaranteed transfer agreements and priority consideration with several colleges and universities, including UC Irvine, UC Santa Barbara, UCLA, Loyola Marymount, Chapman University, and more.
2021-2022 CSU and UC Total Transfers in Orange County
| Rank | Community College | CSU Transfers | UC Transfers | Total Transfers |
| --- | --- | --- | --- | --- |
| 1 | Orange Coast College | 889 | 470 | 1359 |
| 2 | Irvine Valley College | 479 | 764 | 1243 |
| 3 | Fullerton College | 1005 | 236 | 1241 |
| 4 | Saddleback College | 649 | 426 | 1075 |
| 5 | Cypress College | 645 | 137 | 782 |
| 6 | Golden West College | 510 | 109 | 619 |
| 7 | Santa Ana College | 472 | 117 | 589 |
| 8 | Santiago Canyon College | 388 | 177 | 565 |
Get More Info
Compared to four-year schools, it's easy to see why Orange Coast College is always a smart choice - the College offers a quality education at an affordable price.
Cost Comparsion
Cost is based on tuition and fees based on 14 units per semester for an academic year.
Find Out More
Go Pirates!
With more than 100 State and National championships across 25 athletics teams, OCC is the place where champions start. Join us and become an OCC Pirate!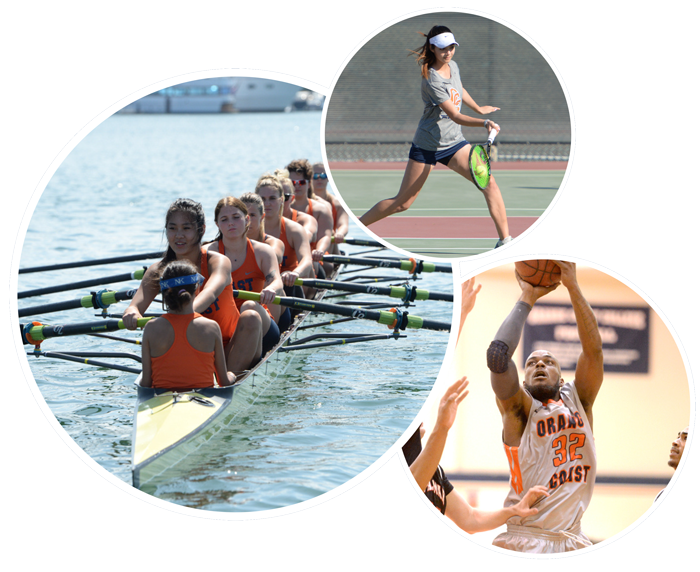 We offers students a vibrant campus life. The Associated Students of Orange Coast College (ASOCC) offers students the opportunity to be fully engaged at OCC via student clubs and student government. There are more than 60 student clubs that students can join and various student government branches they can be a part of, along with 16 Honor Societies in various disciplines that a student can join. With a student population of 22,000 serving more than 1,000 international students representing more than 56 countries.
Start your path to academic and life success.
So what are you waiting for? Be an OCC student today!