Captain's Table is Open Starting September 22nd 2022!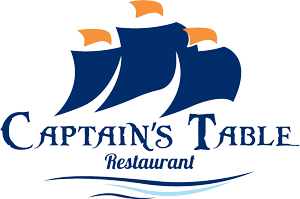 Reservations will open on September 16th.
The Captain's Table is a casual-upscale restaurant located on the Orange Coast College campus in Costa Mesa, California. Both the kitchen and dining room are run by students from the Culinary Arts and Food and Beverage Management programs, serving a variety of cuisine types from a rotating weekly menu. We are open for lunch and dinner every Thursday beginning the third week of the semester. Please see our calendar for details regarding upcoming menus. Reservations are required. 
Price: $25.00
Location & Parking
We are located on the second Floor of the new College Center Building. Parking is available off Fairview and Pirate Way in Lot A.
Please park in the Parking Lot A. Parking is FREE until June 2022. 
Please view our campus map for general directions to and on campus.
In the Fall
During the Fall Semester the format is one seating for lunch and dinner.  The Culinary Principle 3 class is learning "banquet-style" service in the context of American Regional Cuisine.  In a traditional banquet service, guests are seated all at once and are served the same items (there may be a choice or two) course by course.  We offer a three-course meal, with a choice of first and second course. The menu is changed each week, offering Regional cuisine. We ask that our guests please show up on time as service begins promptly at the times below. 
Fall Dining Schedule:
September 29th - The South
October 6th - Florida
October 13th - Louisiana
October 20th - The Great Lakes & Midwest
October 27th - The Great Plains & Rocky Mountains
November 3rd - Texas
November 10th - The Southwest
November 17th- The Pacific Northwest
December 1st - Hawaii
December 8th - California
Fall Seating Times:
Lunch:  12:00 (doors open at 11:45)
Dinner:  6:00 (doors open at 5:45)
In the Spring
In the Spring we teach the "Ala Minute" cooking class. The class is one of the last classes students will take before graduation and emphasizes a restaurant style service of World Cuisines with food items being cook to order throughout the meal period. We offer a three-course meal with choices for each course and the menu changes to examine a different country each week. Guests may make reservations at various times throughout the meal period.
Spring Hours:
Lunch: 11:30-1:00 (last reservation 12:45)
Dinner: 5:30-6:15 (last reservation 6:15)