Meet the 4-year representatives! 
Representatives from UC's, Cal States, in-state private, and out of state institutions visit Orange Coast College to meet with students interested in applying to their campus. Reps come in the Fall and Spring term.
Should I meet with a college representative?
Your personal interaction with college representatives can expose you to campuses you may not have initially considered, and provide you information about programs and majors. You will have an opportunity to gather information and ask specific questions.
When can I book an appointment with a college representative?
Individual appointments will be available to book two weeks to a month in advance depending on the campus.
How do I book an appointment to meet with a rep?
Follow the links below to sign up for an appointment with the campus and specific date of your choice. Students seeking an appointment with a representative from any University of California (UC) campus must have a Transfer Admission Planner (TAP) account created. Appointments are reserved only for currently enrolled OCC students.
Please Note: In response to COVID-19, all Representative Appointments hosted by the OCC Transfer Center will be 20 minute virtual appointments. If you have any questions, please email the Transfer Center at
transfercenter@occ.cccd.edu
.
4-YEAR EVENTS!
4-year universities offer various opportunities such as scholarships, presentations, research programs, etc. Check below for the most recent events offered!
UC EVENTS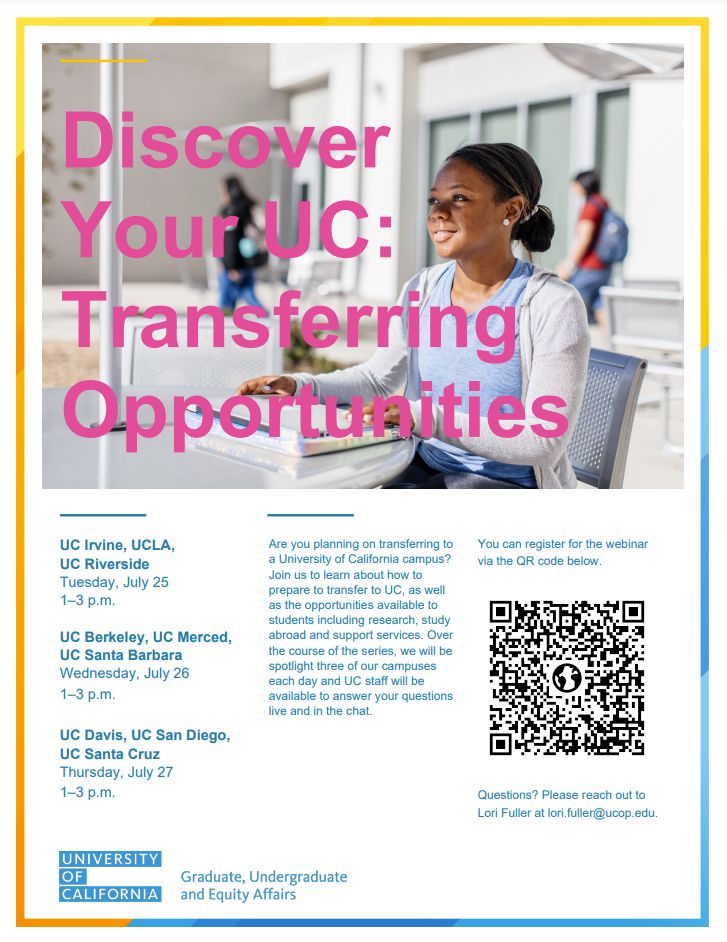 Discover Your UC
Are you planning on transferring to a UC campus? Register for a webinar to learn more about how to preapre to transfer as well as opportunities available! 
 UCI, UCLA, UCR - Tuesday, July 25 from 1PM-3PM
UC Berkeley, UC Merced, UCSB - Wednesday July 26 from 1PM-3PM
UCD, UCSD, UCSC - Thursday July 27 from 1PM-3PM
PRIVATE/OUT OF STATE EVENTS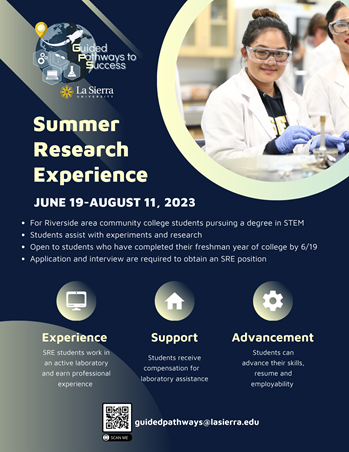 La Sierra University
La Sierra University is holding a Summer Research Experience from June 19 - August 11. This is an opportunity for undergraduate students to work in an active laboratory environment while receiving compensation for expenses to facilitate training. It is open to students who have completed their freshman year of college by 6/10. Apply Now!
New York Film Academy
NYFA is still allowing enrollment for their Bachelor of Fine Arts in Musical Theatre degree for Fall 2023. The application deadline if June 30, 2023, with late applications accepted through July 28, 2023. Click Here to apply now!
California Northstate University
California Northstate Universities College of Health Sciences has a new podcast about their Pre-Health Professions Pathways! This podcast provides insightful information and advice for students who are interested in pursuing a career in healthcare. View the most recent podcasts now on youtube or on spotify!
Summer 2023 Campus Rep Schedule
Campus

Visit Information

Additional Information

CSU Bakersfield

Virtual Appointments

Available throughout Summer - see link to schedule an appointment

CSU Channel Island

Virtual Drop-In Advising

Available throughout Summer - see link to find admissions contact information

CSU Chico

Virtual Appointments

Available throughout Summer - see link to find admissions contact information

CSU Dominguez Hills

Virtual Appointments

Available throughout Summer - see link to find admissions contact information

CSU East Bay

Virtual Appointments

Available throughout Summer - see link to schedule an appointment

Fresno State

Virtual Appointments

Available throughout Summer - see link to find admissions contact information

CSU Fullerton

Virtual Appointments

Available throughout Summer - see link to find admissions contact information

Humboldt State University

Virtual Appointments

Available throughout Summer - see link to schedule an appointment

CSU Los Angeles

Virtual Appointments

Available throughout Summer - see link to schedule an appointment

CSU Maritime Academy

Virtual Appointments

Available throughout Summer - see link to find admissions contact information

CSU Monterey Bay

Virtual Appointments

Available throughout Summer - see link to find admissions contact information

CSU Northridge

Virtual Appointments

Available throughout Summer - see link to find admissions contact information

CSU Poly Pomona

Virtual Appointments

Available throughout Summer - see link to schedule an appointment

Sacramento State University

Virtual Appointments

Available throughout Summer - see link to find admissions contact information

CSU San Bernardino

Virtual Appointments

Available throughout Summer - see link to find admissions contact information

Request Appointment Here

San Diego State University

Virtual Appointments

Available throughout Summer - see link to find admissions contact information

San Francisco State University

Virtual Appointments

Available throughout Summer - see link to find admissions contact information

San Jose State University

Virtual Appointments

Available throughout Summer - see link to find admissions contact information

Request Appointment Here

Cal Poly San Luis Obispo

Virtual Appointments

Available throughout Summer - see link to find admissions contact information

CSU San Marcos

Virtual Appointments

Available throughout Summer - see link to schedule an appointment

CSU Sonoma

Virtual Appointments

Available thought Summer - see link to find admissions contact information

CSU Stanislaus

Virtual Appointments

Available throughout Summer - see link to schedule an appointment
Campus

Visit Information

Additional Information

UC Berkeley

Virtual Appointments

Available throughout Summer - see link to find admissions contact information

UC Davis

Virtual Appointments

Available throughout Summer - see link to find admissions contact information

UC Irvine

Virtual Appointments

Available throughout Summer - see link to find admissions contact information

UCLA

Virtual Appointments

Available throughout Summer - see link to find admissions contact information

UC Merced

Virtual Appointments

Available throughout Summer - see link for details

UC Riverside

Virtual Appointments

Available throughout Summer - see link for details

UC San Diego

Virtual Appointments

Available throughout Summer - see link to find admissions contact information

​UC Santa Barbara

​Virtual Appointments

Available throughout Summer - see link for details

UC Santa Cruz

Virtual Appointments

Available throughout Summer - see link to find admissions contact information
Campus

Visit Information

Additional Information

American Jewish University

Virtual Appointments

Available throughout Summer - see link to schedule an appointment

Antioch University

Virtual Appointments

Available throughout Summer - see link to find admissions contact information

Artcenter

Virtual Appointments

Available throughout Summer - see link to schedule an appointment

Biola University

Virtual Appointments

Available throughout Summer - see link to find admissions contact information

California Baptist University

Virtual Appointments

Available throughout Summer - see link to schedule an appointment

California Lutheran University

Virtual Appointments

Available throughout Summer - see link to schedule an appointment

California Institute of Integral Studies

Virtual Appointments

Available throughout Summer - see link to find admissions contact information

Chapman University

Virtual Appointments

Available throughout Summer - see link to find admissions contact information

Colorado State University

Virtual Appointments

Available throughout Summer - see link to schedule an appointment

Columbia College Chicago

Virtual Appointments

Available throughout Summer - see link to schedule an appointment

Concordia University Irvine

Virtual Appointments

Available throughout Summer - see link to find admissions contact information

Harvey Mudd College

Virtual Appointments

Available throughout Summer - see link to schedule an appointment

Illinois Institute of Technology

Virtual Appointments

Available throughout Summer - see link to schedule an appointment

Keck Graduate Institute

Virtual Appointments

Available throughout Summer - see link to schedule an appointment

Schedule Appointment Here

Loyola Marymount University

Virtual Appointments

Available throughout Summer - see link to schedule an appointment

Menlo College

Virtual Appointments

Available throughout Summer - see link to find admissions contact information

Otis College of Art and Design

Virtual Appointments

Available throughout Summer - see link to schedule an appointment

Pacific Northwest College of Art

Virtual Information Sessions

Available throughout Summer - see link to register

Pacific Oaks College

Virtual Appointments

Available throughout Summer - see link to schedule an appointment

Point Loma Nazarene University

Virtual Appointments

Available throughout Summer - see link to find admissions contact information

Scripps College

Virtual Appointments

Available throughout Summer - see link to schedule an appointment

Stony Brook University

Virtual Appointments

Available throughout Summer - see link to schedule an appointment

Syracuse University

Virtual Appointments

Available throughout Summer - see link to schedule an appointment

University of Arizona

Virtual Appointments

Available throughout Summer - see link to schedule an appointment

University of Colorado Colorado Springs

Virtual Appointments

Available throughout Summer - see link to schedule an appointment

University of San Francisco

Virtual Appointments

Available throughout Summer - see link to schedule an appointment

Schedule Appointment Here

University of Southern California

Virtual Presentations

Available throughout Spring- see link for details

Register Here

University of the Pacific

Virtual Appointments

Available throughout Summer - see link to schedule an appointment

Schedule Appointment Here

​West Coast University

​Virtual Appointments

Available throughout Summer - see link to schedule an appointment

Woodbury University

Virtual Appointments

Available throughout Summer - see link to schedule an appointment