Yoga soothes the mind, calms the soul and strengthens the body. And it's becoming increasingly popular in stressed out, health-conscious California. OCC Career Advantage provides yoga teacher training that can help you develop the knowledge, skill and experience needed to work as a yoga instructor at health clubs, spas and yoga/dance studios or as a freelance instructor. The 200-hour program meets the requirements set by Yoga Alliance, a professional membership and trade association, to become a registered yoga teacher (RYT). If you have a passion for wellness and want to share it with others, read on to learn more.
A sampling of courses for these careers
Theory of Yoga
Yoga Methodology
SEE COURSE CATALOG
ALUMNI SUCCESS SPOTLIGHT
HEAR FROM JESSICA AND CHRIS ABOUT WHERE THEY DECIDED TO MAKE THE SMART CHOICE.
Complete our certificate program, and you'll be well-prepared to enter a career in yoga instruction.
View program detail in course catalog.
Yoga Instructor Training
Prepare for a position as a yoga instructor at a health club, spa, yoga/dance studio, hospital, in the health industry or as a self-employed private yoga instructor. Learn how to properly instruct a yoga class for all levels and abilities, including the use of props, themes and yoga philosophy to enhance classes, and learn the history and evolution of yoga. 
Frequently Asked Questions
Other Programs That Might Interest You
Did you know?
According to the Bureau of Labor Statistics, people who have a certificate as
their highest level of education earned, on average, 20 percent more than
those whose highest education level is a high school diploma.
Our Team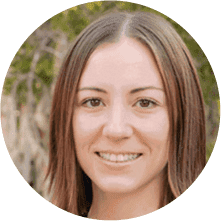 Katie Ottoson, M.S.
Counselor, CTE and
Career Services
Find Out More
Fill out the form below and we will contact you with more information

Subscribe
Get the latest news on new program areas, financial aid, campus news and more.