Meet the Faculty
Paul Navidad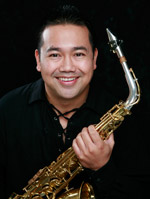 Paul Navidad joined the faculty of Orange Coast College in 2000 as the director of Jazz and Commercial Music Studies. Paul, a California native, has performed with a diverse list of musicians from Al Jarreau to Tennessee Ernie Ford, has opened for comedians such as Jay Leno, Rich Little, and Jamie Foxx, and has been heard on numerous soundtracks of films and television shows, most notably NBC's Emmy-nominated sitcom Friends.
In 2004, Paul recorded with Lou Rawls, Deborah Harry, Lisa Loeb, and Isaac Hayes, as well as with actors George Wendt and Gary Oldman on the critically-acclaimed Buena Vista Records children's album A World of Happiness. He is also heavily featured on Lou Rawls' final album, Lou Rawls' Christmas, on the Time-Life label. Currently in heavy demand as a performer and writer, Paul works world-wide. He can be seen performing at a number of Southern California jazz clubs with the likes of such artists as Wilton Felder, Jeff Kashiwa, Eric Marienthal, and Rob Mullins.
His skills as an improviser have earned him the praises of such jazz greats as Alan Broadbent, Buddy Collette, Dewey Erney, Kim Richmond, Bud Shank, and Bill Watrous, and have earned him the recognition of the International Association of Jazz Educators as an Outstanding Soloist. He is working on his first solo saxophone project and has released singles as a vocalist as well.
Contact: anavidad@occ.cccd.edu 
---
Eliza Rubenstein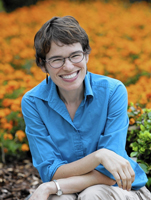 Eliza Rubenstein joined the Music Department faculty as a part-time choral director in 2008, and became OCC's full-time Director of Choral and Vocal Activities in 2009. Besides her position at OCC, she is also the Artistic Director of the Orange County Women's Chorus; she was Artistic Director of the Long Beach Chorale and Chamber Orchestra for 18 years, and the music director at Mesa Verde United Methodist Church for 14.
Born in Missouri to a musical family, Eliza first requested violin lessons at age 4 so that she could "play on street corners for money" when she grew up; she continues to play violin and viola as a hobby, and she's recently taken up the mandolin. She studied English literature and choral conducting at Oberlin College in Ohio before earning her Master's Degree in choral conducting at UC-Irvine. Eliza is on the board of the California Choral Directors' Association, and she edits CCDA's award-winning magazine "Cantate."
Ensembles under Eliza's direction have performed at Carnegie Hall, Disney Hall's REDCAT Theater, the Renée and Henry Segerstrom Concert Hall at the Orange County Performing Arts Center, and the Western Division convention of the American Choral Directors' Association. The Orange County Register recently praised her "expert direction," and the Long Beach Gazette has said that "Musically and technically, she has it all." For eight years Eliza was the assistant supervisor of the Irvine Animal Care Center; she is the co-author of a book about dog adoption, and her family includes her partner, Julie Fischer; four dogs (yellow Lab Dayton, Aussie mix Russell, and Australian shepherds Elliot and Carter); and a grey cat, Wilbur.
Contact: erubenstein@occ.cccd.edu 
---
Dana Wheaton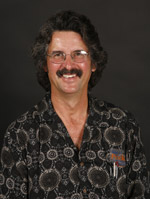 Dana Wheaton, trombonist and conductor, has played behind such luminaries as George Burns, The Coasters, Sammy Davis, Jr., The Fifth Dimension, The Four Tops, Jan & Dean, Henry Mancini, Toni Tennille, and John Williams. He is a member of the American Federation of Musicians, Local 47.
Dana has taught at Orange Coast College since 1991, currently serving as Director of Bands and overseeing the Computers in Music program. His father, Dr. Jack Wheaton, is President of the American Federation of Musicians, Local 325 in San Diego.
Contact: dwheaton@occ.cccd.edu
Susan Ali, voice
Susan Ali, mezzo-soprano, teaches applied voice, voice class, and directs the annual Opera Magnifica program. As a member of the Executive Board for the National Association of Teachers of Singing, Los Angeles Chapter (NATS-LA), Dr. Ali has chaired several events. Her vocal students at OCC have participated in NATS events and a National Opera Association conference presentation, and have been honored with scholarships and awards in a number of outside competitions. Susan serves as Coordinator of the Vocal Area in the Cal Poly Pomona Music Department. As a performing artist, Susan has enjoyed performing in opera, musical theatre, and concert works. She has performed as a soloist with Pacific Symphony Orchestra, Pasadena Pops, Symphony Irvine, Montage Orchestra, Concordia Masterworks, Orange County Opera, South Bay Opera, San Diego Master Chorale, and more.
Contact:  sali@occ.cccd.edu
---
Dennis Anderson, recording technology
After receiving two consecutive Fulbright scholarships to study music composition at the Krakow Music Academy with Buguslaw Shaffer and Krzsztof Penderecki, Dennis Anderson returned to the U.S. and worked in the music industry as a recording engineer, song demo producer, session guitarist and bassist, theater sound designer, and film music recording producer.
In 2003, after teaching courses in History of Rock Music, Music Theory, and Music Technology at Cal State-Fullerton, Mt. San Antonio College, and Golden West College, he joined the faculty of OCC, where he now teaches the Recording Techniques Workshop course in the OCC Pro Tools studio that he designed and built. Dennis was music recording engineer and music supervisor on the film Bienvenido-Welcome, which won Mexico's Ariel award for best soundtrack, and he appears as a featured commentator in Paul McCartney's DVD "The Space Within Us."
Contact:  danderson@occ.cccd.edu
---
 April Chocholaty, flute
April Chocholaty has been a private flute and oboe teacher in the Southern California area for over 25 years. She is the instrumental winds teacher at Calvary Christian School and the woodwinds coach at St. Margret's Episcopal School, Canyon High School, and Community Youth Orchestra of Southern California (CYOSC). She freelances at musical theatres like GEM and Maverick, and plays in two big bands, Orange County Swing Band and West Coast Swing Band, and can be seen playing with improv combo from WCSB at St. Paul's Episcopal in Fullerton. In 2005, April had the opportunity to visit Catharine DeRenzis, a flute teacher friend, in Belize, where she presented a masterclass. She participated in the Celebration Orchestra's tour, performing and teaching in the north-eastern provinces of Cuba in both 2013 and 2015. April holds Bachelor's Degrees in Music and Sociology from Biola University (cum laude) and graduated magna cum laude with a Master's Degree in flute performance from the Claremont Graduate University. Her past flute teachers include Cynthia Ellis and David Shostac, and she has studied oboe with Laura Stone, Joe Stone, and Dr. Larry Timm; and reed making with Jessica Pearlman.
---
Jordan Curcuruto, percussion 
Jordan Curcuruto is a percussionist specializing in contemporary solo and chamber percussion music, speaking percussion, and world music. She has performed with Monday Evening Concerts, Wild Up, Los Angeles Percussion Quartet, The Industry Opera, Brightwork newmusic, and Left Edge Percussion. Jordan is an alumnus of the inaugural Eighth Blackbird Creative Lab, the Percussive Arts Society International Convention All-Star Ensemble, and three-time alumnus of the Nief-Norf Summer Festival. 
Jordan composed and premiered an original work at the 2017 New Music Gathering and performed the work again at the 2019 Transplanted Roots International Percussion Symposium. Most recently, she performed a solo concert featuring her original speaking percussion compositions at Tuesdays at Monkspace. Jordan earned her BM at Chapman University and her MM at the Oregon Center for the Arts at Southern Oregon University. She is currently on faculty at OCC, Fullerton College, Ventura College, and Moorpark College.
Teresa de Jong-Pombo, piano
Pianist Teresa de Jong-Pombo has performed throughout Austria, Germany, Italy, Colombia and the United States. She performs solo and ensemble recitals and has appeared as soloist numerous times with the OCC Symphony. Besides OCC, she is on the faculty at the Colburn School of Performing Arts in Los Angeles, where she is Director of the Colburn Honors Piano Seminar, and she maintains a private studio. She is on the faculties at the Montecito International Music Festival and InterHarmony International Music Festival in Italy and Germany. Ms. de Jong Pombo coaches for the Junior Chamber Music Program. She has been Guest Artist at the Joanna Hodges Piano Conference (now Virginia Waring), the Pennsylvania Academy of Music, and performed in American Music Week, Austria, on invitation by the U.S. Embassy, sponsored by the National Endowment for the Arts. A Fulbright Scholar, she earned the Konzertfach Diplom at the Vienna Hochschule für Musik in Austria, after graduating summa cum laude from USC with Bachelor and Master of Music degrees in Piano Performance.
Contact:  tdejongpombo@occ.cccd.edu
---
Beth Hansen, voice/musical theater
Beth Hansen has been an OCC faculty member since 2000, specializing in Advanced Performance Techniques, Advanced Auditioning Techniques, and Advanced Voice. A seasoned professional, she has taught and coached thousands of students as well as professionals from coast to coast.
Beth is also a renowned theatrical director and actor, having been involved professionally with the stage for over 30 years, with over 300 productions to her credit. In addition to OCC, Beth has served on the faculties of UC-Irvine, Cal State-Long Beach, Chapman University, Saddleback College, Irvine Valley College, Golden West College, and Santa Ana College.
Contact:  bhansen@occ.cccd.edu
---
Emily Hung, piano/music fundamentals
Dr. Emily Hung holds degrees and awards from the Juilliard School, Indiana University, and USC. She made her Carnegie Weill Hall solo debut as a winner of the Artist International Competition, and has been frequently featured in Juilliard's "World of Piano" series. She has performed concerti with the Orange Coast Symphony and Olympia Symphony, among others, and has given solo and chamber recitals throughout the states.
Dr. Hung has served as a branch president in the Music Teachers' Association of California. She is active as an adjudicator, and her students have won top awards in local, state and national music competitions. Dr. Hung has taught as an assistant lecturer at USC.
She has been on the faculty at Orange Coast College since 2000, and Irvine Valley College since 2005. She coaches the Junior Chamber Music program, and maintains an active private studio in Orange County.
Contact:  ehung@occ.cccd.edu
---
Janelle Kim, piano/theory
Janelle Kim was born in Seoul, South Korea, but has spent most of her musical life in California. She began her piano studies at age 7 and won her first competition at 15. Janelle holds Bachelor's and Master's Degrees in piano performance from Cal State-Fullerton, and she is the accompanist for the Orange County Women's Chorus and Our Lady of Peace Korean Catholic Center.
Janelle is a gifted and experienced vocal coach and concert soloist as well as an accomplished accompanist; in the spring of 2009 she performed Rachmaninoff's Piano Concerto No. 2 with the Corona Symphony Orchestra, and she was the featured soloist in the CSO's fall 2010 performance of Beethoven's "Emperor" Concerto as well.
Contact:  jkim@occ.cccd.edu
---
Dmitry Koudymov, guitar
Dmitry Koudymov is a guitarist and teacher based in the Los Angeles area. He has been active in the Southern California performance, recording, and teaching scene for over 20 years. In addition to solo guitar shows, his concerts include collaborations with world music groups, jazz and orchestral musicians, and various guitar ensembles, as well as commissions and premieres of new music, including performances and recordings with the Orange County Guitar Orchestra. In addition to college classes, Dmitry also teaches elementary and high school courses in the Newport-Mesa and Downey school districts through Coastline Community College and the Downey Foundation.
Contact:  dkoudymov@occ.cccd.edu
---
Judy E. Lee, piano
Judy E. Lee has a wealth of experience in teaching and performance. She earned a Bachelor of Music degree in Piano Performance from the University of California–Irvine under the tutelage of Nina Scolnik, and she holds a Master of Music Degree from USC; her principal teachers have been Bernadene Blaha and Ann Perry.
While a doctoral student at USC, she worked extensively in Yamaha Music Education System as a Music Education Specialist in training teachers and developing their curriculum. Judy's students have been prizewinners in many festivals and competitions. She currently serves as the Vice President of the Irvine branch of the Music Teachers' Association of California.
Contact:  jelee@occ.cccd.edu
---
Jeff Mayor, history of rock music
Jeff Mayor joined the OCC Music Department as a part-time faculty member in 2008, teaching Music Fundamentals, Piano 1 – 2, and History of Rock Music. Jeff was the chair of the OCC Dance Department from 2002 – 2010, and he was also the department's Music Director until 2016. In addition to a background in film and television, including producing for Disney Theme Park Florida, Jeff has taught rhythm analysis at CSUF and has a deep interest in North and South Indian percussion, fusing his skills on tablas and mridanga with jazz and rock music. Jeff studied world music at CSUSF and holds a M.M. from Notre Dame de Namur University.
Contact:  jmayor@occ.cccd.edu
---
Dave Murdy, studio guitar
Dave Murdy, a native Californian, received his Bachelor's of Music in Jazz and Commercial Guitar from USC. He has performed both solo and with a wide range of artists that includes Jazz, Classical, Pop, Rock and Country genres. Dave was an original member of pop jazz band Kilauea, with whom he toured the U.S. and performed on four CDs, two of which went top-ten on the Billboard Charts. During that same period, Dave released his own jazz CD, "That Goes to Show Ya," on Time Is Records. Dave has also released two cds with his trio Toxic Jazz.
Dave has performed with artists as varied as Art Davis, Brandon Fields, Eric Marienthal, Tony Guerrero, Bobby Shue, Warren Hill, and 60's pop stars Mel Carter and Jackie Deshannon. Dave performs locally and internationally with a variety of bands and artists. He has written, arranged and recorded original music for Universal Studios theme parks, composed original music for "Muzak," and written his own
guitar book.
Contact:   dmurdy@occ.cccd.edu
---
Adam Pettit, classical guitar
Adam Pettit began his formal training on the classical guitar at age fifteen, at the Texas Christian University Music Preparatory program. Shortly thereafter, he received the gold medal at the University Interscholastic League Competition's state competition on classical guitar, and was awarded Outstanding Performer.
Currently, Adam is completing his Doctorate of Musical Arts degree at USC, where he was selected as the First Prize winner of the USC Donald Miller Guitar Concerto Competition. Following the success of this concerto performance, he was invited to perform as a featured soloist with the South Coast Symphony Orchestra of Orange County.
In addition to classical repertoire, Adam also enjoys exploring the flamenco style and collaborating with various chamber groups. He is also a founding member of the Helios Guitar Quartet, where he plays 7-string guitar in addition to the standard 6-string classical. Besides OCC, Adam currently serves as part-time faculty at Cypress College and Riverside Community College.
Contact:   apettit@occ.cccd.edu
---
Randy Pile, guitar/music fundamentals
Randy Pile, recitalist, concerto soloist, and chamber musician, is known for his "rich tone", "powerful technique", "graceful interpretations," and "sensitive musicianship." He has gained an international following through acclaimed performances in the USA, Europe, Canada, New Zealand and Australia, and appearances in major music festivals around the world.
Randy's repertoire spans the spectrum of guitar literature from early music to post-modern works, and includes the most demanding concertos. He holds degrees from UC-Berkeley and UC-San Diego, and his doctoral dissertation was based on a revision of Joaquín Rodrigo's guitar works, which he undertook while working closely with the Maestro at his home in Madrid, becoming friends with Rodrigo and his family.
An acknowledged expert on this music, he is the author of A Performer's Guide to the Complete Guitar Works of Joaquín Rodrigo. He has recorded for labels including Philips, American Matador, and Metro Records, and his performances have been praised by the New Yorker, the Los Angeles Times, and Pepe Romero, among others.
Contact:   rpile@occ.cccd.edu
---
Kelly Self, OCC Chorale
Kelly Self is a classically trained vocalist, conductor, and music educator. Kelly is in her twelfth season singing as a member of the Grammy Award-winning professional chorus, Pacific Chorale. She received dual Bachelor of Music degrees in Education and Vocal Performance from Chapman University Conservatory of Music in Orange, CA. Upon graduation, she received the top Conservatory Award for Choral Music Education. She additionally received a Master of Arts degree in Teaching from Chapman University and a Master of Music in Choral Conducting from California State University Fullerton, where she studied under Dr. Robert Istad. 
Contact:  kself@cccd.edu
---
Nadia Smelser, voice
Nadia Smelser is a professional singer and voice teacher whose flexible command of technique and vibrant vocal tone allow her to sing and teach a wide variety of musical styles. Nadia holds a Master of Fine Arts degree in Vocal Performance and a Bachelor of Arts in Communications. She was a Lecturer in Voice at the University of California, Irvine, taught at Fullerton College and Cypress College, and directed the Mater Dei High School Vocal Conservatory. Nadia runs a busy private vocal studio, teaching students online from around the country.  
Nadia has appeared on PBS, CNN, National Public Radio, Classic Arts Showcase, Hour of Power, E! Entertainment Network, and the Jerry Lewis Labor Day Telethon, among many other classical and commercial music performances. She was a soloist with prestigious groups such as I Cantori, Pacific Chorale, and the Carmel Bach Festival, and was invited to tour nationally with Anonymous Four in the "Voices of Light" tour for Columbia Artists. In addition to her classical oratorio performances, Nadia currently sings with her own jazz group, Starlight Jazz Quartet.
Nadia is in demand as an adjudicator at regional vocal competitions and as an expert presenting workshops on vocal health.  Her students frequently win college scholarships and singing competitions, as well as professional positions in both classical and commercial music settings.
Contact:  nsmelser@occ.cccd.edu
---
Ricardo Soto, music history/theory
A California native, Ricardo Soto holds a B.A. and M.M. from California State University, Fullerton, and a Doctor of Musical Arts from USC. He is retired from full-time teaching at Orange Coast College, where he served as Chair of the Music Department, conducted the OCC Symphony, and taught music theory and music history. In 2014 he was honored as OCC Faculty Member of the Year. He has also served as Director of Hispanic Music Ministry at Christ Cathedral in Garden Grove, California. His great interest lies in developing choral music that reflects his Hispanic heritage. 
Contact:  rsoto@occ.cccd.edu
---
Anne Walsh, popular vocal technique
Nationally renowned jazz/pop vocalist Anne Walsh holds a master's Degree in Vocal Performance from Cal State Long Beach. Anne has an authentic style of singing that is neither purely jazz or purely pop but rather a fusion of the two. While Anne is classically trained and has a resume spanning from operatic soubrette roles to musical theatre principal roles in national equity houses, the standards from the Great American Songbook and Brazilian jazz genre in particular kept beckoning her. She and her husband, pianist and arranger Tom Zink, have released three successful Jazz albums, their first ("Pretty World") garnering a Grammy Nomination. Anne happily joined the music faculty at OCC in 2017.
Contact:  awalsh@occ.cccd.edu
---
Mathew Ward, OCC Symphony and violin
Dr. Mathew Ward is native to Southern California and the current director of Symphonia and the strings program at the California School of the Arts. As the former Music Director of the Sewanee Symphony Orchestra at the University of the South in Tennessee, he championed new approaches to programming and audience engagement. He was the founding Music Director of the Baton Rouge Civic Orchestra and has also had the pleasure of conducting the Sewanee Summer Music Festival New Music Ensemble and the Louisiana State University Symphony Orchestra and LSU Philharmonia.
As a violinist, he has played with numerous professional orchestras. He holds undergraduate and master's degrees from Boston's Longy School of Music and a doctorate in conducting from LSU. Dr. Ward currently resides in Los Angeles with his two kittens, Esme and Aubrey.
Contact:  mward51@occ.cccd.edu
Janelle Kim
Janelle Kim was born in Seoul, South Korea, but has spent most of her musical life in California. She began her piano studies at age 7 and won her first competition at 15. Janelle holds Bachelor's and Master's Degrees in piano performance from Cal State-Fullerton, and she is the accompanist for the Orange County Women's Chorus and Our Lady of Peace Korean Catholic Center.
Janelle is a gifted and experienced vocal coach and concert soloist as well as an accomplished accompanist; in the spring of 2009 she performed Rachmaninoff's Piano Concerto No. 2 with the Corona Symphony Orchestra, and she will be the featured soloist in the CSO's fall 2010 performance of Beethoven's "Emperor" Concerto as well.
Contact: jtag@occ.cccd.edu
---
Shoko Tomita
Bio coming soon!
---
Beth Syverson
Beth Syverson, an OCC staff accompanist since 2000, grew up in Iowa and received a Bachelor's Degree in Music Performance from Drake University. In 2000, she earned a Master of Arts degree in Music History and Literature from Cal State-Fullerton. Her chamber ensemble, Crown Trio, released a CD, Colorwave, in 2003. She has taught classes in piano, music history, and theory at Riverside Community College, Concordia College, CSU-Fullerton, Orange County High School of the Arts (OCHSA) and Orange County Children's Therapeutic Arts Center.
She has taught private piano lessons for over 20 years, and she currently focuses on teaching piano to students with special needs. Beth is the Director of Music Ministries at Orange Coast Unitarian Universalist Church, and the director of UNISON Interfaith Choir and Orange County Homeschool Choir. She lives in Norwalk with her son Joey, her partner Jan, four horses, three dogs, and a cat.
Contact: bsyverson@occ.cccd.edu