Your Contributions Help us Achieve Our Mission!
Naming opportunities for the spaces and exhibits in the Planetarium are available for those interested in contributing to our mission to bring the universe to the people of Orange County. 
The opportunity to name the Orange Coast College Planetarium is available for a donor making a leadership contribution of $5 million to the campaign. The following distinguishing donorship recognition opportunities are available for leadership donors:
Lobby/Exhibit Hall  - $750,000

Entry Courtyard   - $500,000

Seat Name Plaques   -$1,000
Smaller contributions from our community are no less valuable to the day-to-day operation of the Planetarium. Your donations go directly to supporting our staff, new exhibits and shows, and other activities that encourage STEM education for all ages. 
MAKE A GIFT ONLINE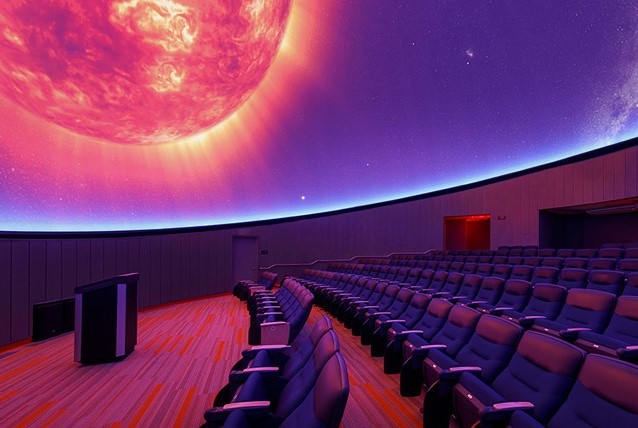 As of February 1, 2019 over $2.9 million in private support has been received and pledged to support the Planetarium and the Astronomy Village/Telescope Farm. Leadership donors to the project include:
OCC Astronomy Village Telescope Farm
Base 11
Foucault Pendulum
Mary McChesney
Science on the Sphere Explorer
Jerrell Richards, Ph.D.
Science on a Sphere NOAA Display Globe
Barbara and Dave Cline
Planetarium Immersive Theater
Mary Lynn and John Rallis
Gifts of $1,000 or more will be acknowledged by a unique donor recognition display in the lobby/exhibit hall of the Orange Coast College Planetarium. Gifts to date in these categories are as follows:
Galactic $50,000 or above
David & Barbara Cline
Marisla Foundation
Stellar $10,000 - $24,999
Blair Carty
Marilyn Flint
Murphy West Family Foundation
Meteoric $5,000 - $9,999
David A. Grant
Jane Hilgendorf
Judith & Willis Longyear
A. Patrick Munoz
Linda I. Smith Foundation
Doug & Mailei Bennett
Solar $1,001 - $4,999
Cheryl Baker
Doug Benoit
Barbara Cooper
Fluor Foundation
In Memory of Cherry Gundry – Anne Gundry
Dennis Harkins, Ph.D.
Val Hayward
George & Cathleen Hill
Marshall & Dolores Johnson
Rich Pagel, Ed.D.
Liz & Steve Parker
Phi Delta Kappa
Lorraine Prinsky, Ph.D.
Julie Simer
Marilyn Sion
Steve Tamanaha
Carolyn Thomas
UCMI, Inc.
John Weispfenning, Ph.D.
Albert Wong​
If you would like to contribute to the Planetarium fund, please call the Orange Coast College Foundation office at (714) 432-5126
or email us at occfoundation@occ.cccd.edu or contribute by mail at:
Orange Coast College Foundation
2701 Fairview Rd
Costa Mesa, CA 92626