ATTENTION: Our field trip schedule for Spring/Summer 2023 is fully booked through August 21st. We are currently accepting requests for Fall 2023. Spring 2024 requests will open starting September 1st, 2023. 
---
Field Trip Experiences
The Orange Coast College Planetarium is committed to providing an innovative, immersive, and illuminating experience for Orange County and beyond. The Planetarium offers field trip experiences for the local school community from kindergarten through high school.
Our 2023 calendar is fully booked through 8/21. We are only able to take requests for Fall 2023.
Standard Field Trips
Private Planetarium Field Trips can be scheduled mornings, Tuesday through Friday. Afternoons and evenings during the week are reserved for OCC classes and events, with weekends being open to the general public. Field trips usually last between 60 and 90 minutes, and include a Planetarium show in the Dome Theater, a tour of the sky that will be visible on the night of your visit, Q&A with one of our Planetarium experts, and exploration of our exhibit space. 
Groups coming on field trips can select any program from our Planetarium Library. There you can find descriptions, recommended grade levels, NGSS connections, and trailers.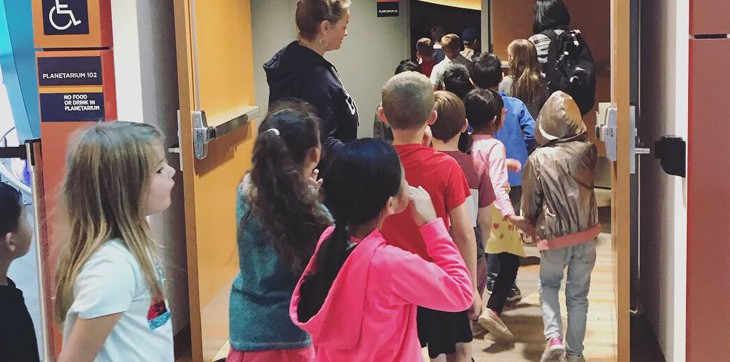 Small Group Field Trips
During the school year the Planetarium offers monthly weekday programs. These are ideal for small groups like Homeschool communities, small private schools, or senior groups. Tickets for these programs are $5 per person, with no minimum fees.
Each month features a different program covering a variety of exciting topics from dark matter to the phases of the moon!
You can find the schedule of upcoming programs on our Public Calendar page.
Program Fees
For groups with fewer than 50 people, there is a minimum fee of $250.
For larger groups, fees are calculated based on attendance: $5 per person, with 1 free chaperone for every 10 students.
Visit Us