Other Scholarships

The Benjamin Gilman International Scholarship offers up to $5,000 towards study abroad programs for Pell Grant eligible students. This scholarship also provides students with non-competitive eligibility (NCE)  for jobs with the U.S. Federal Government! OCC students consistently are awarded this scholarship and OCC was named a Top Producing School by Gilman in 2018. Read the Coast Report article. There's two application periods per year. Don't let this one pass you by! 
The Gilman application also requires a follow on service project. View the videos for more information on the program, application process and tips on writing competitive essays.  OCC has Gilman Scholarship Workshops each year.
The Gilman McCain Scholarship offers up to $5000.00 towards study abroad programs for dependents of active Military service members who are receiving federal financial aid. If you qualify for this you may still apply for the Gilman scholarship also.
Gilman Partnership Scholarships - There's more scholarships available through partnerships to France, New Zealand, Wales, & Portugal!
Diversity Abroad Scholarship

IES Abroad is committed to fostering and supporting a diverse student body.  Their Diversity Scholarships support and encourage students from  under-represented populations on an IES Abroad study abroad program. Under-represented students include students from under-represented racial and ethnic groups, first generation to college students, students from low income families and students with a history of overcoming adversity.
Boren Scholarship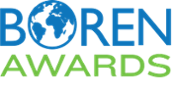 Boren Scholarships, an initiative of the National Security Education Program, provide unique funding opportunities for U.S. undergraduate students to study less commonly taught languages in world regions critical to U.S. interests, and underrepresented in study abroad, including Africa, Asia, Central and Eastern Europe, Eurasia, Latin America, and the Middle East. For more information visit   Boren Awards.
CIEE Scholarship 

CIEE offers many scholarships  including a guaranteed Minority Serving Institution (MSI) grant. OCC is a MSI!
Frederick Douglass Global Fellow Scholarship
FDGF, A four-week intensive summer study abroad program  (Fully funded, Dublin Ireland).  The Fellows will be based in Dublin and travel around the country where Douglass campaigned against slavery and oppression in 1845. Co-sponsored by the Irish Department of Foreign Affairs, the Fellows will have the opportunity to meet Irish government representatives, as well as the leaders of organizations who support social justice and the advancement of diverse communities in Ireland. You can watch alumni talk about their experiences with FDGF on YouTube. Eligibility Requirements: Underrepresented (in study abroad) ethnicity, Evidence of financial need, Minimum GPA of 3.0 Eligible applicants who are not selected still receive a $1500.00 study abroad grant for use in any CIEE study abroad program!
Freeman-Asia Scholarships
The Freeman-Asia Scholarship is for undergraduate students studying abroad in the following countries: Cambodia, China, Hong Kong, Indonesia, Japan, Korea, Laos, Macao, Malaysia, Mongolia, Philippines, Singapore, Taiwan, Thailand, Vietnam. 2.8 GPA minimum. Must show verifiable need for financial assistance. Permanent Residents are eligible!
Fund for Education Abroad

The  Fund for Education Abroad (FEA) invests in promising students with financial need who wish to study abroad. Potential applicants who meet the eligibility requirements may participate on any international education program that meets their academic objectives. Scholarships range from $1,250 – $10,000 and can be applied for programs that run for at least 28 days.
GoAbroad
Check out the GoAbroad listing of scholarships 
Phi Theta Kappa 
International Scholar Laureate Program for members of Phi Theta Kappa Honors Society.  Consult with the   OCC Honors Program Coordinator if you are not yet a member. 
Rotary Club Scholarships
Rainbow Scholarship Fund
Rainbow Scholarship Fund  is for LGBTQI+ students, US Citizen, permanent resident, or DACA students. 
Tortuga Scholarship 
Tortuga Scholarship  is up to $1,000 and a travel backpack. Applicants must be a U.S. citizen, permanent resident, or currently studying in the US on a student visa.
StudyAbroad.com List of Scholarships
Make Your Mark Scholarship
Make Your Mark Scholarship  is $500.00 for students who are US Citizens, residents, or DACA recipients with a 3.00 minimum GPA.
Zonta Scholarships for Women
Scholarships for women, look under educational programs