All OCC faculty led program classes are CSU/UC transferable general education classes (GE's). They will appear on your OCC transcript just like any other class.
Our faculty led programs all have a support system on site with our provider company partners. These staff members work in the study centers. They provide orientations, help set up your housing and roommates,  provide logistical support like transportation and set up tour guides for excursions. They are invaluable in unexpected situations, lost travel documents, illness etc. OCC Global Engagement Center Staff are always in contact with the faculty and staff so you can feel confident that you won't be completely alone in a foreign country.
All programs are subject to the COVID-19 conditions in each country/region and there is a possibility of cancellation. Do be aware our host countries are requiring full vaccination and a negative COVID test to enter the country.  We are keeping a close eye on conditions and will update this page as necessary.
Provider Company Led Programs
If you would like to go to a different location or attend a longer program - Additional programs are available to OCC students through study abroad provider companies, foreign universities, companies, NGO's, agencies, or additional individual universities or consortiums.
Classes through study abroad provider led programs may or may not be accepted for degree credits to OCC or transfer to other universities.  It is up to students to do their due diligence regarding transferability, by contacting the OCC graduation office and/or the university they wish to transfer to. You will need to know the exact class name and number and which institution will issue the transcript for your coursework abroad.
To find programs, try Googling your major, a destination and a semester/length.  Some provider companies students in the past have used are: AIFS, CIEE, GoAbroad, Semester at Sea, TEAN.  The Embassy of France has two-week bootcamps designed for community college students. There are also virtual study abroad programs.  
If you register to attend a provider company led study abroad program please complete the Provider Company Study Abroad Participant form. There you can also upload any forms they require OCC to fill out. 
More Helpful Links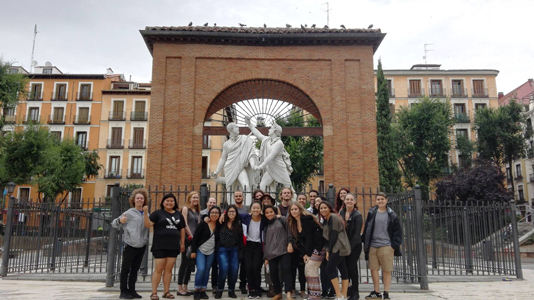 US Department Of State Study Abroad Info
Info on how to study abroad as a person with a disability
CDC's Guide to traveling with a chronic illness
Sexual Orientation Laws in the World map from The International Lesbian, Gay, Bisexual, Trans and Intersex Association
Transgender and non-binary students abroad by Brandeis University
How to apply for a passport. You can go to a post office or a store like CVS, Costco, Rite-aid for photos (about $13.00) or do them yourself using a passport photo app/online service.
Still Have Questions?
You can make an appointment to meet with the Study Abroad Advisor.  Please complete this
intake form
.