At Orange Coast College, we define Student Equity as guarantee of fair treatment, access, opportunity, and advancement for all students, while working to identify and address barriers that stand in the way of student success.  As of result of this commitment to access, success and transfer for all of our current and prospective students, the Student Equity Office hosts a variety of programs and initiatives to support our students' success.
Contact Us
(714) 432-6847 - Please leave a voice message.
Watson Hall 205
Office Hours
Spring 2023
Monday to Thursday, 10 a.m. - 3 p.m.
Friday, 10 a.m. - 1 p.m.
Sat & Sun, Closed
Meet Our Team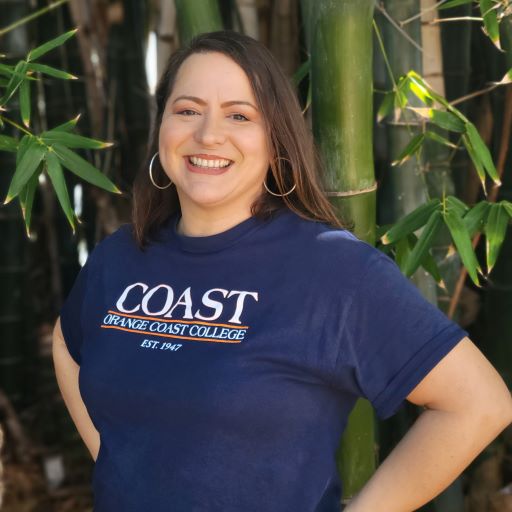 Maricela Sandoval (She/Ella)
Student Equity Department Manager
My name is Maricela and I get to oversee Student Equity Programs for Orange Coast College. This includes several projects and programs, all focused on helping students succeed—especially those from underrepresented communities. This is important for me because I was one of the first in my family to attend a university, and I often found it to be a lonely experience. I am committed to helping my team create a welcoming, inclusive, and safe environment for all students!  I've worked in educational programming and mentoring initiatives for over 25 years and continue to learn from the students we serve. One of my favorite things to do for holidays and birthdays is to "host" silly game shows for friends and family to compete in good fun.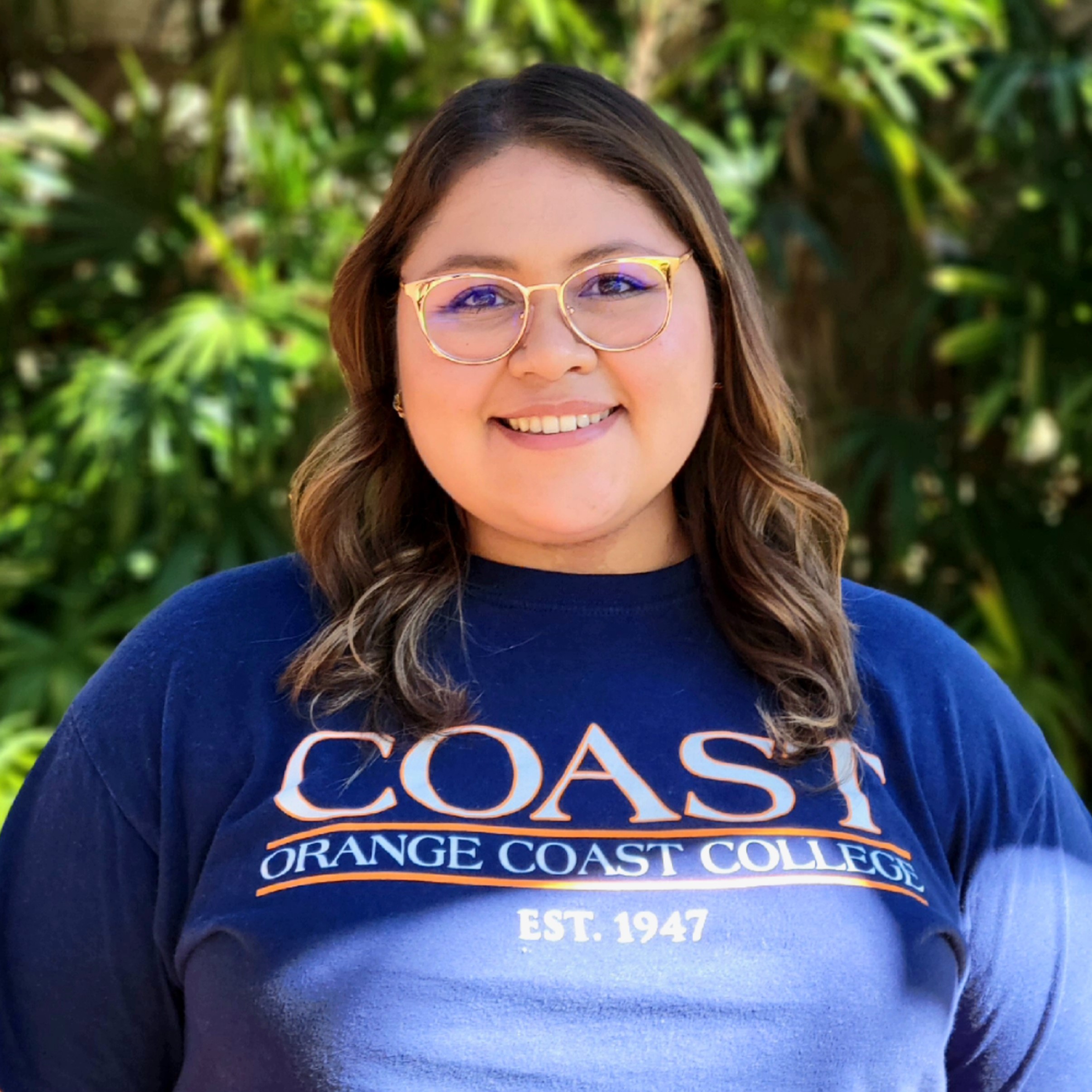 Lupe Tinoco Oliveros (She/Ella)
Housing Assistance Program/Project Coordinator 
Hi! My name is Lupe and I oversee the Housing Assistance Program and other small projects within the Student Equity department. I began my educational journey at Humboldt State University (B.A. in Sociology and Critical Race, Gender, and Sexuality Studies) and ended at Cal State, Fullerton with my masters in Higher Education. This work is so meaningful to me because I am the first person in my family to graduate college and I wouldn't be where I am without the individuals and equity-focused programs that supported me along the way. I feel so honored to be in a position where I can pay that forward and support students to achieve their personal, educational, and career goals. In my free time, I like to dive into a good book, catch up on shows and movies, play Sims 4, and try new food recipes that I find on TikTok! 
Alexander Arebalo (He/Him)
Pirate's Promise Program Coordinator
Hello all I go by Alexander and I am currently the Pirates' Promise Program Coordinator. I studied Educational Counseling at the University of Redlands and majored in Sociology/Social work for my undergrad. I have always enjoyed helping others in overcoming endeavors and supporting those in need. I feel my work within Student Equity, I am able to do just that. I advocate for all students and support them in the best way I can. On the weekends you can find me cooking, wrenching on cars or enjoying the great outdoors.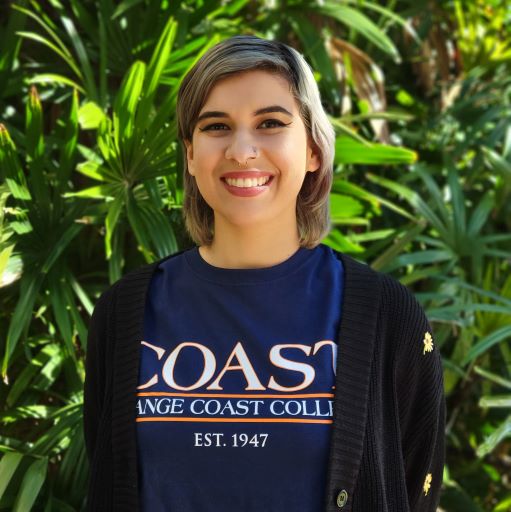 Jenna Perez (She/They)
Student Equity Program Coordinator
Hello there! I began my journey at OCC as a student where I earned an A.A in Sociology. Later, I transferred to UC Berkeley and became the first in my family to earn a college degree. While studying at OCC, I was a Student Equity ambassador and was involved in campus life such as TOP, Puente Club and Student Government. These experiences truly shaped me into the person I am today. I would not have succeeded without the care and mentorship of the passionate faculty and staff I met along the way. I hope that I can provide that same support to you on your journey, and I am grateful to be here serving students because I was once in their shoes. Higher education was a transformative experience for me, and I am passionate about the work we do to make higher education accessible to everyone.  
A fun fact about me is that I used to be a DJ for my campus radio station! When I'm not working you can find me taking my chihuahua for walks, going on boba runs, singing my heart out at karaoke, or exploring new hiking spots.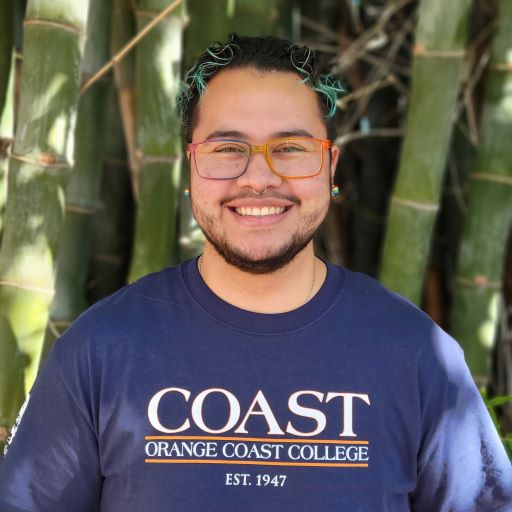 Caleb Aparicio (They/He)
Hey folks! 
I'm Caleb, the LGBTQIA+ Project Specialist here at OCC. I am a queer, Latinx, first-generation college graduate who followed a less traditional path in my education. I began my undergrad journey at Long Beach City College in 2009, but stopped attending a few semesters later. Having been inspired by my younger sister, I returned five years later in Spring of 2016. I became involved in a few student organizations, one of which was Queer Space, the LGBTQ+ club on campus. That is where my passion to serve the LGBTQIA+ community originated.  
I transferred to Cal State University, Long Beach in the Fall of 2018, which is also when I started socially transitioning. During my time there, I was the Associated Students, Inc. LGBTQIA+ Commissioner and co-founder of the Transgender Empowerment & Action (T.E.A) student organization. I graduated with my B.A. in Psychology, with a Queer Studies minor in 2021 and was fortunate to start working here at OCC in November of that same year. I'm passionate about helping students find their voice and advocating for their needs here on campus. 
A few fun things about me:  
I'm sort of a "late-bloomer" having come out as trans at age 28.

I have 3 pets: A shitzu mix named Roxy and 2 cats named Tegan & Sara (named by my wife.)

 

I have a "Stitch corner" in my work space, so if you're a Stitch fan come visit me!

 

I'm team pineapple on pizza.

 
Dulce Castellon (She/Her)
UndocuScholars Professional Expert
Welcome everyone!   
My name is Dulce Castellon, and I am a first-generation college graduate and a DACA (Deferred Action for Childhood Arrivals) recipient. My academic background is comprised of a Bachelor's degree from California State University, Long Beach (CSULB) in Human Development and Family Studies with a minor in Child Development. Before transferring to CSULB, I attended Orange Coast College where I completed my Associate of Arts degree in Liberal Studies and worked as a Peer Mentor in the Student Equity Office. Currently, I am the Professional Expert here at OCC for the UndocuScholars Center. I have been Undocumented for 21 years and a DACA recipient for 6 of those years. This is why I am extremely passionate to serve my community and connect them with available resources that will help them succeed in their academic journey. Our hope for the UndocuScholars Center is to not only provide our UndocuScholars with resources & information, but most importantly with a sense of community and belonging here at OCC.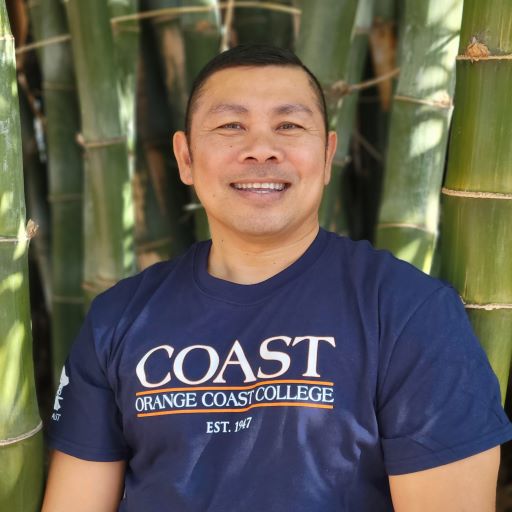 Tuan Vo (He/Him)
OCC Cares Program Cooridnator
As a first-generation college student, English learner, and a minority, I am passionate about bringing positive change and witnessing our students thrive in their educational goals and well-being because I, too, struggled with my education path and dropped out of college at some point. It took me over 15 years to complete my BA for Psychology & Human Development at CSUF and my Master of Social Work at OLLU. As you can see, I am product of second chances. 
I came to Orange Coast College in 2015 to work in Student Services as part of their assessment team. In 2018 I transferred to the Student Equity department as part of the OCC Cares and Pirate's Cove Pantry team. I helped oversee the day-to-day operations of Pirate's Cove for over three years before becoming the OCC Cares Basic Needs coordinator. I now have the pleasure of connecting students with on-and off-campus resources for basic needs such as food, housing, clothing, etc. At OCC Cares we understand that a student's most basic needs must be met first for them to be successful in college and it is our goal to be able to provide that support to our students. 
Fun Fact(s):  
I am proud to be a foster parent of 5 children. 

 

Latest hobby is to play tea party with our youngest daughter and her stuffed animals. 

 

I got lost in the Smokey Mountain area and had to hike 25 miles after sundown in the wood.