SIU Carbondale and Orange Coast College are partners in aviation education. Students enrolled in the Orange Coast Aviation Pilot Training, Aviation Management, Aircraft Dispatcher and Aviation Maintenance programs can complete an SIU Bachelor of Science degree in Aviation Management at the Orange Coast campus on a weekend format! 
The Aviation Management Bachelor of Science degree program is designed to build upon training in aviation flight, maintenance, aircraft operations and other aviation-related fields. This is a career-oriented degree program that meets the educational needs of individuals who have aviation-related work experience and/or technical training from a wide variety of backgrounds. Program Faculty are aviation professionals who have extensive teaching and academic backgrounds, and are industry experts in their teaching areas.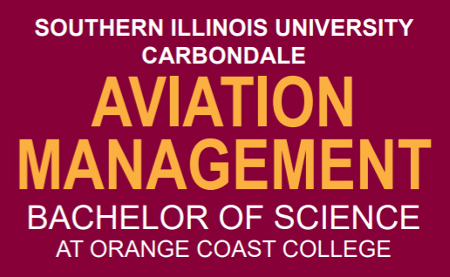 FOLLOW YOUR CAREER PATH
SIU's renowned aviation management program builds on aviation skills you already have, taking the technical training you receive and expanding it into a career-oriented degree. Graduates of SIU Carbondale's Aviation Management program include professional pilots, NTSB investigators, airport directors, managers, consultants, FAA safety inspectors and aircraft product support personnel, and Air Traffic Controllers.
THE PARTS
The Aviation Management degree program consists of three parts: 
A 48-semester-hour major with courses taught in a weekend format that spans four semesters and can be completed in 16 months.
A 34-42-semester-hour approved career electives requirement that can be satisfied through previously completed military schools, OCC and other community college degree programs, other technical or industry training programs, FAA Certificates or aviation-related work experience. 
A 30-38-semester-hour University Core Curriculum (UCC) requirement that can be satisfied by transfer credit from other accredited institutions, including OCC and other community colleges, CLEP, DANTES and proficiency training.
AVM Core Courses - 48 Hours
AVM 300 Introduction to Aviation Management

AVM 301 Aviation Management Writing and Communication

AVM 319 Aviation Occupational Internship optional)
AVM 370 Airport Planning
AVM 372 Airport Management
AVM 374 General Aviation Operations
AVM 376 Aviation Maintenance Management
AVM 385 Air Transport Labor Relations
AVM 401 Analysis of Issues in the Aviation Industry
AVM 450 Management Problems in the Aviation Industry
AVM 371 Aviation Industry Regulation
AVM 373 Airline Management
AVM 375 Legal Aspects of Aviation
AVM 377 Aviation Safety Management
A

VM 386 Fiscal Aspects of Aviation Management

AVM 402 Aviation Industry Career Development
SERVING THOSE WHO SERVE US
We take pride in serving the men and women who serve our country, and it shows. Our convenient program gives military personnel and working adults the opportunity to prepare for career transitions and advancement while fulfilling other obligations. Southern Illinois University Carbondale and Orange Coast College are perfect partners for active duty, aviation industry and VA eligible veterans.
For further details regarding this program contact:
Advisor Lori Armstrong - armstrong@siu.edu 
Tuition Calculator
Downloadable Brochure