May is Asian & Pacific Islander Heritage Month
Resources from the Smithsonian: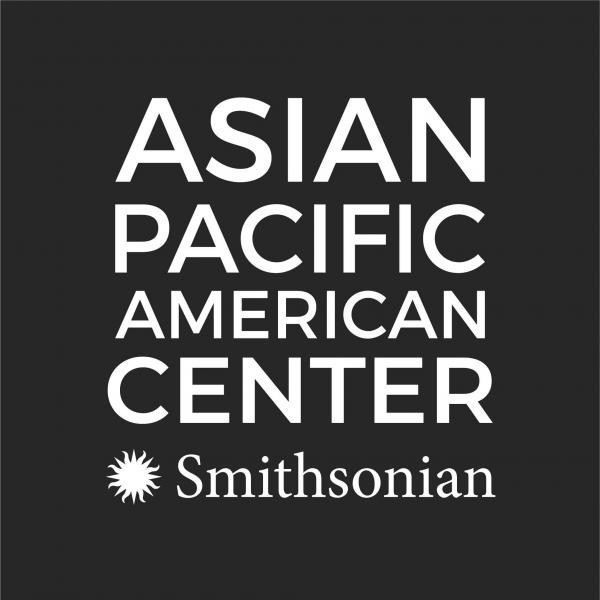 https://learninglab.si.edu/org/apac
Events:
The Kindness of Color with Janice Munemitsu
The author of the book Kindness of Color, Janice Munemitsu, will talk about the story of two immigrant families and their struggle against racism in 1940s California and the kindness that helped them to a better future.  The book will be available for participants.  Sponsored by the Multicultural Center.
Wednesday, May 10th, 1:00 PM in the Multicultural Center GEC 110
Listen via zoom in unable to come in person: https://cccd-edu.zoom.us/j/8592758145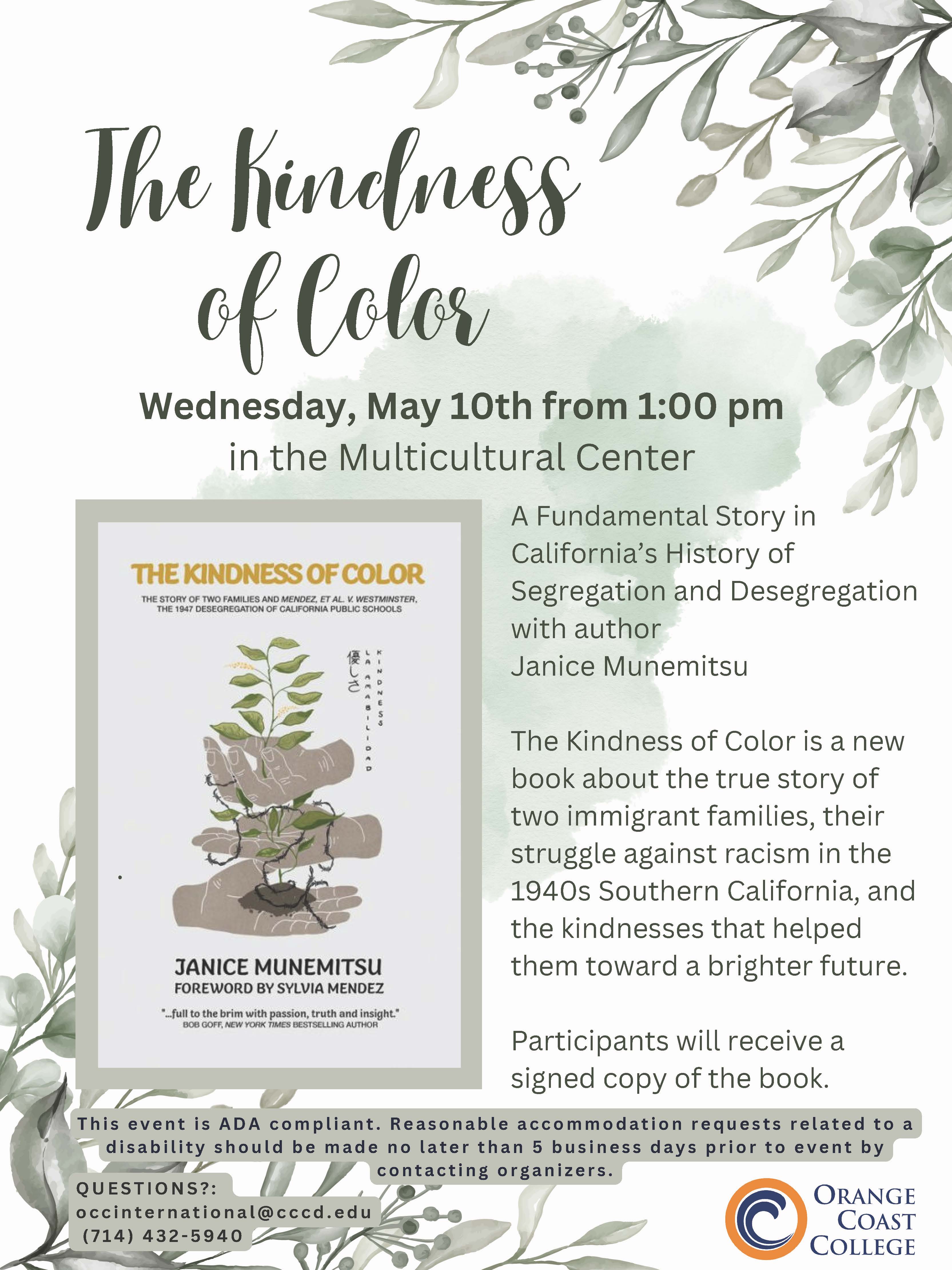 Japanese Intercultural Exchange and Snack
Join the Japanese Intercultural Club in a cultural exchange exercise and receive an exceptional snack/candy from Japan. Co-sponsored by the Global Engagement Center
Wednesday, May 11th, 12:00 PM near the Pirates Cove
Past Events

Please Register for any events you are interested in: tinyurl.com/CCCDSAAM
Clothesline Project online Event
All Month
The clothesline Project brings awareness to interpersonal violence and sexual assault.  To view the Clothesline Project slideshow, visit tinyurl.com/CCCDVirtualClothesline. Coast Community College District is in solidarity with survivors.


Transgender Day of Visibility 

Monday, April 3 | 11 AM to 1 PM | OCC Student Union 101
Learn about prominent trans figures, issues that surround the trans community, and art created by OCC trans, non-binary, and gender non-conforming artists. There will also be a zine making station with various prompts to choose from, snack and refreshments. 


Queer Sex Education 
Tuesday, April 4 | 3 to 4:30 PM | OCC Student Union 213 (Zoom option)
This sex ed presentation is designed for LGBTQIA+ community. Topics may include safe sex, transitioning & sex, LGBTQIA+ sexual assault statistics, consent, and more. Zine activity, led by Hub coach Mlou Aquino (they/them), on what consent looks like.  This is a safe space where are welcome!


LGBTQIA+ Student Ally Training
Wednesday, April 5 | 12 to 1:45 PM | OCC Student Union 213 (Zoom Option)
Do you have friends or family who are part of the LGBTQIA+ community, but aren't sure how you can support them? Do you want to learn how to become an ally to the LGBTQIA+ community?  Join us for an ally training designed specifically for students here at OCC! Review LGBTQIA+ terminology, Do's & Don'ts, intervention strategies, and more. Lunch will be provided. 


Movie @ OCC The Harbour Courtyard - Edge of Seventeen
Thursday, April 6 | 6:30 to 8:30 PM | OCC The Harbour Courtyard
Free screening. This film, set in the Midwest, summer of 1984 tells the story of Eric, a musically-gifted and charming soon-to-be high school senior, who gets a little lost on his post-pubescent exploration of sexuality, with his best friend Maggie and potential beau Rob.


Consent Fair
Tuesday, April 11 | 11 AM to 1 PM | GWC Student Union Outdoor Patio
Title IX invites you to a Resource Fair featuring community organizations that raise awareness on sexual violence.  Learn from these community organizations how you can get invovled. 


Supporting LGBTQIA+ & Survivors in the Classroom
Wednesday, April 12 | CCC Student Services Building 109 & OCC Student Union (Zoom Option)
This staff and faculty focused workshop will engage participants in a conversation about our responsibilities as faculty and staff to support students. Learn how to engage and implement inclusive practices in the classroom and programs that support LGBTQIA+ students under Title IX regulations. 


Catfishing & Impersonation Online
Friday, April 14 | 12 to 1 PM |OCC Student Union 214, GWC Student Services Center 2400 (Zoom Option)
Catfishing and online impesonation continue to grow and evolve, which makes it a form of abuse that everyone must be familiar with to learn to prevent and avoid. Join us to learn how to prevent and safely respond.


LGBTQIA+ Know Your Rights Event 
Monday, April 17 | 11 AM to 12:5 PM | OCC Student Union 213
Learn about the policies and laws that protect the rights of the LGBTQIA+ community at school, in the workplace, and more. Lunch will be provided. 


Strategies to Address Online Harassment
Wednesday, April 19 | 3 to 4 PM | OCC Student Union 214, GWC Student Services Center 2400 (Zoom Option)
Online harassment is one of the more difficult forms of abuse to manage because victims must often rely on technology platforms.  Learn tools to stop abuse.


Green Dot Bystander Training
Friday, April 21 | 12 to 3 PM | OCC Student Union 214
The Green Dot Bystander Training is for students interested in learning about bystander intervention strategies and how to end power-based personal violence on our campus. 


When Victim Blaming Goes Digital
Tuesday, April 25 | 4 to 5 PM | OCC Student Union 214 & GWC Student Services Center 2400 (Zoom Option)
Abuse is never the victim's fault - and yet victim blaming persists. In the digital age, the blaming of victims has become amplified and more severe. Learn strategies to help and empower both victims and our communities to prepare for, address, and navigate victim blaming in online spaces. 


Show Your Pride
Tuesday, April 25 | 11 AM to 2 PM | CCC Garden Grove Center Student Lounge
Show your pride through Art. Drop in anytime to build community through art and learn about resources at Coastline and Coast District. Refreshment will be provided. 
Denim Day
Wednesday, April 26 | 10:50 AM GWC photo in the Student Services Center Atrium | 12 PM OCC photo in the Main Quad
The Denim Day campaign hopes to bring awareness to victim blaming and destructive myths that surround rape and sexual violence. Wear jeans with a purpose and meet up for a group photo with others wearing denim. 


Yoga as Healing - Survivor Focused
Thursday, April 27 | 4 to 5 PM | Zoom 
Yoga is an empowering practice that prioritizes the lived experience and healing of each survivor. Join us in a trauma-informed class that is centered on healing.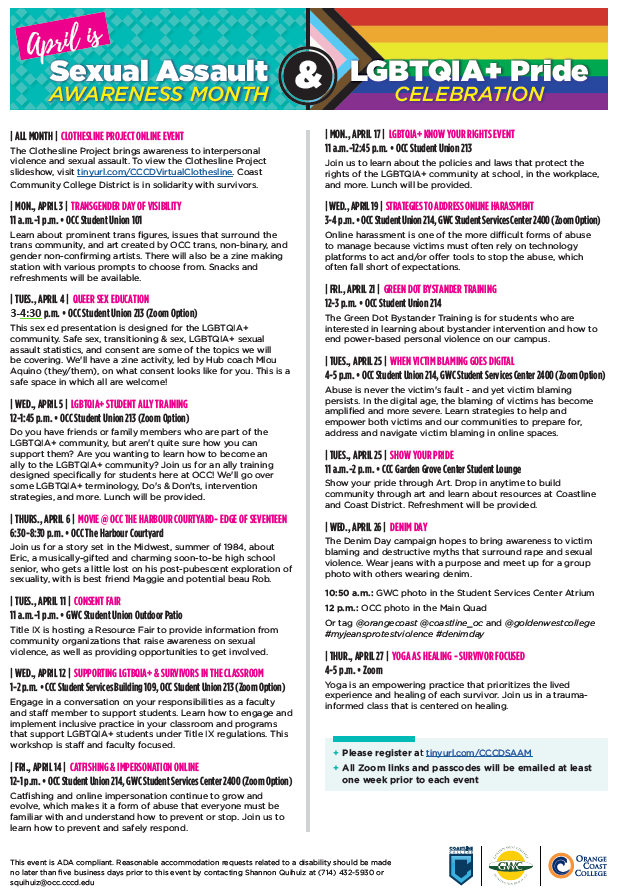 History of Feminism with OCC Faculty Jessica Christian
Mondy, March 20th 2:30 P.M.
Multicultural Center

Women in Leadership Student Panel
Women leaders from the OCC student community will answer questions about their experiences.

Tuesday, March 21st 5:00 P.M.
Student Union Multipurpose Room
 
Voices of Women: Open Mic Poetry, Stories, and Music
Creative expression from the OCC campus community for Women's History Month.
Wednesday, March 22nd 5:00 PM
Multicultural Center
To sign up ahead of time, please email Nathan Jensen njensen@occ.cccd.edu and Flavia Ruzi fruzi@occ.cccd.edu.
Written and directed by Eliza Hittman, the film is an intimate portrayal of two teenage girls in rural Pennsylvania. Faced with an unintended pregnancy and a lack of local support, Autumn (Sidney Flanigan) and her cousin Skylar (Talia Ryder) embark across state lines to New York City on a fraught journey of friendship, bravery and compassion.
Trailer: https://www.focusfeatures.com/never-rarely-sometimes-always/video/official-trailer-1
Thursday, March 23rd 5:00 PM
Multicultural Center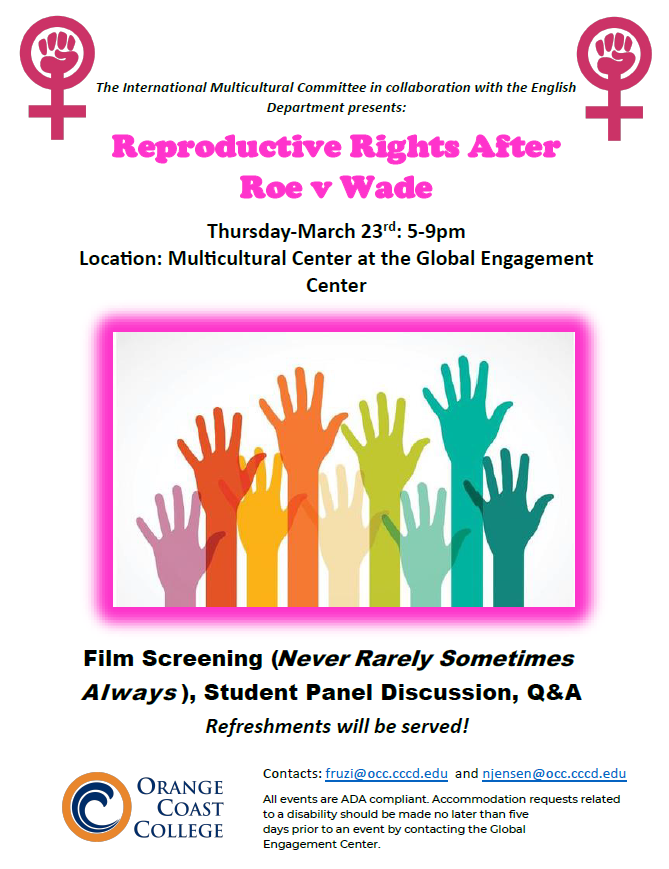 CLEEO Summit 14.0: "Fractal Futures & African Past"
Computational foundations for generative justice with Dr. Ron Eglash, School of Information, University of Michigan.
Wednesday, March 22 @ 2-3:30 PM
Webinar: https://bit.ly/CLEEOSummit14RSVP 
 
MOONLIGHT: Free Film Screening
Film begins March 1 at 5PM
Location: Multicultural Center (behind the Global Engagement Center)
Sponsored by Student Equity Programs and the Global Engagement Center
Watch this Oscar Aware Winning film and stay for a thoughtful conversation of culture, race, identity and more.

Mendez, et al v. Westminster 1947
Wednesday, Feb 22,  9:30 a.m. to 11 a.m. @ OCC Science Hall
Orange Coast College is proud to commemorate the 75th anniversary of the landmark decision, Mendez v. Westminster, that sparked the desegregation of schools in Orange County with a lecture. Campus community is invited. Reception to immediately follow in the Multicultural Center, GEC 110.
This event is ADA compliant. Accommodation requests related to a disability should be made no later than five business days prior to this event by contacting Nathan Jensen at njensen@occ.cccd.edu or (714) 432-5909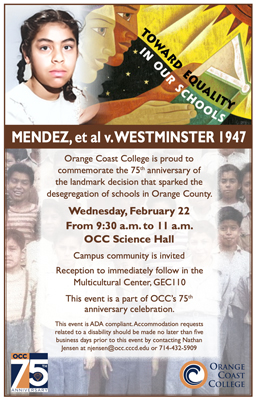 OCC's Black Student Union: Black History Month Series
For more information, contact OCC BSU President, Key Iy Mizero (kmizero@student.cccd.edu) or BSU Advisors, Dr. Jessica Ayo Alabi (jalab@occ.cccd.edu) and Jamal Tatum (jtatum1@occ.cccd.edu)
Thursday, February 16 
Field trip to Coastline for Black Panther Movie
Friday, February 17
Field trip to Long Beach African American Cultural Center for lunch at Roscoe's/Shoreline Village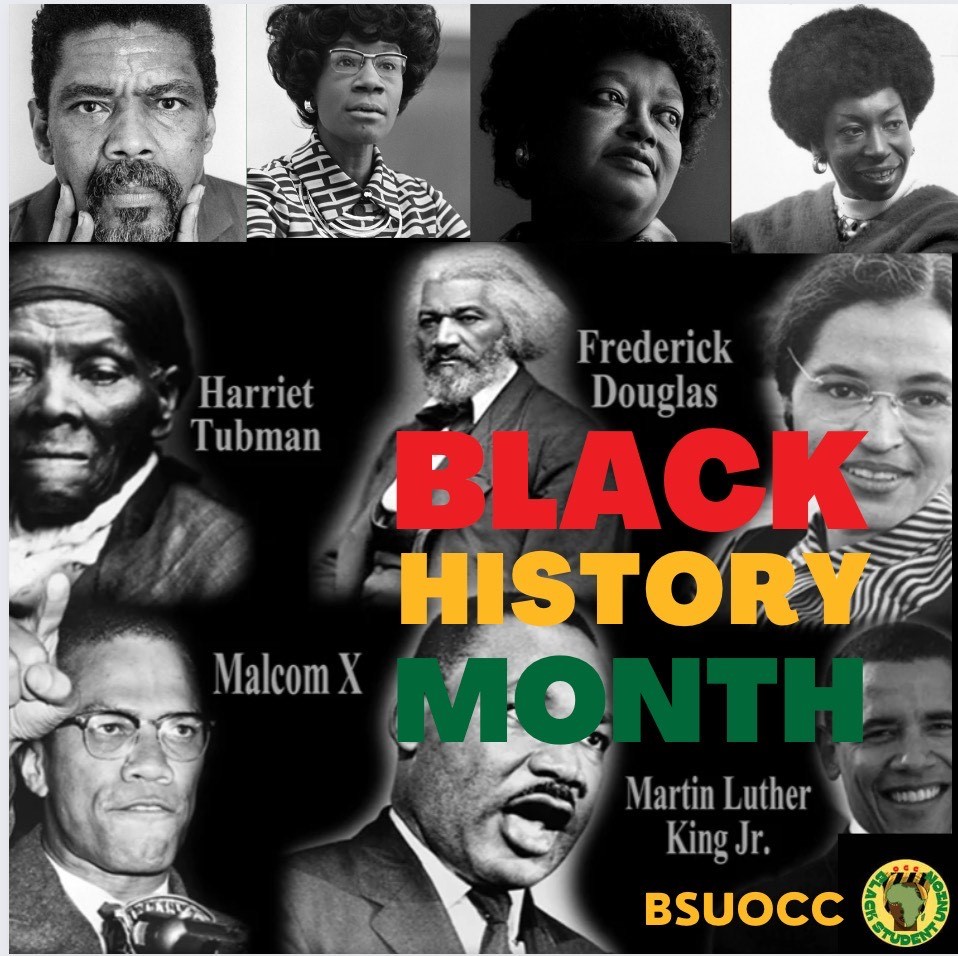 Black History Month: Through Our Lens...Culture, Business, Legacy
A month of events presented by Orange Coast College UMOJA, co-sponsors EOPS, Student Equity, Multicultural Center.
Monday, February 6 @ 1PM
Location: Campus Quad
Celebrating African culture through dance. African Soul International performance, live music and dance
Thursday, February 16 @ 1PM
Location: Student Union, room 213
Celebrating Black creativity through artistic voices. Brandon Alexander Williams, Author, All Def Poet, Spoken Word artist, MC, & DJ
Zoom ID: 868 9999 5617

Tuesday, February 21 @ 1PM
Location: student Union, Room 213
Celebrating Black Business and Economics. Black Wall Street presentation, De'von Walker, Founder of Play Black Wall Street
Zoom ID: 817 8224 4101
Wednesday, February 22 @ 4 PM
Location: Multicultural Center
Celebrating Black Legacy. Disrupting racism through the lens of Angstrom Hughes. Dr. Ron McCurdy, USC Professor
Zoom ID: 819 6688 9632
The Global Engagement Center Wishes you a
HAPPY LUNAR NEW YEAR 2023
Celebrate with us:
Thursday, February 2, 2023 - 12 to 2PM
Locations: booth outside of Starbucks
Pick up a Red Envelope with a Starbucks Surprise
Hang a wish on our Wishing Tree
Grab a free snack to go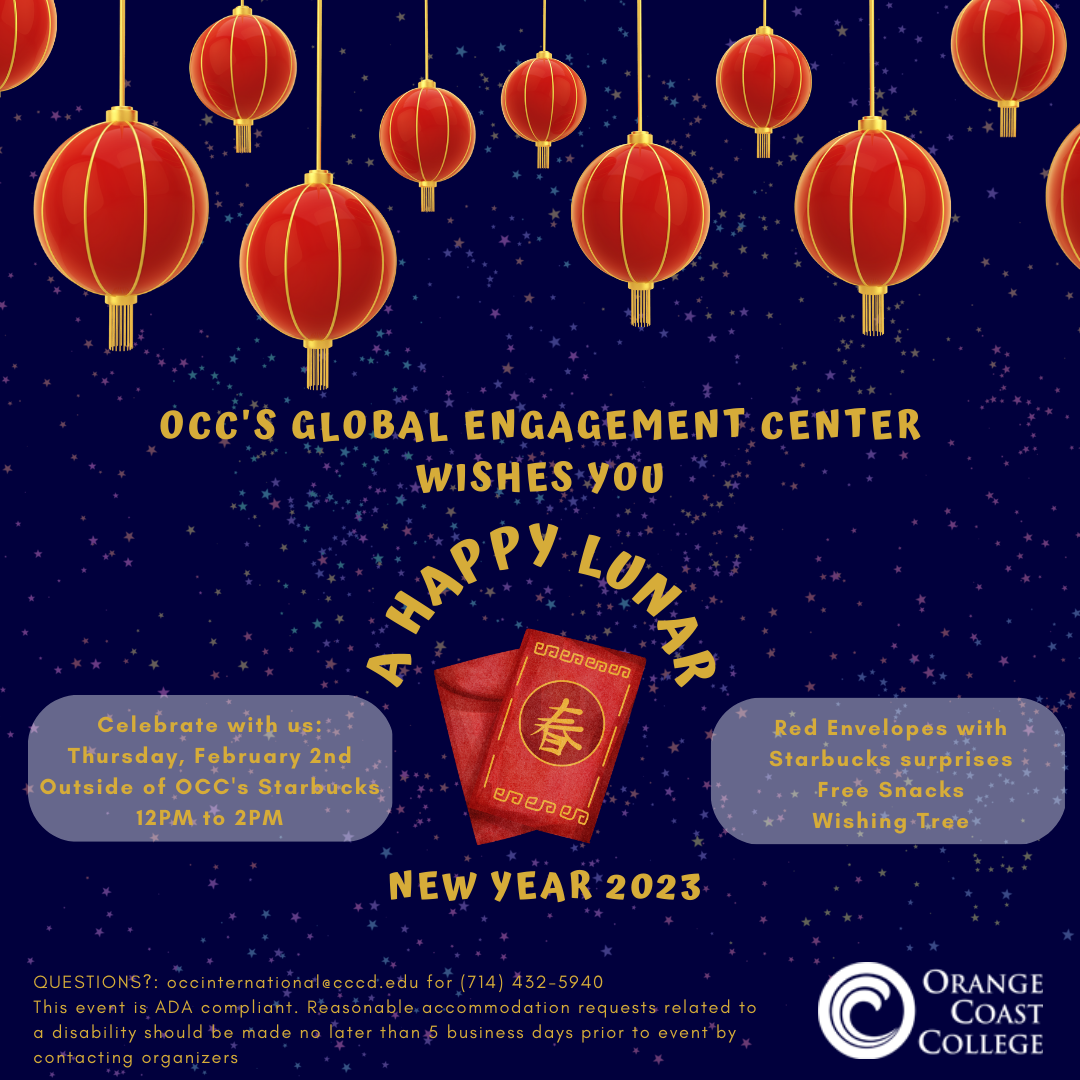 Coast Community College District UMOJA Community Presents
KWANZAA 101: A Celebration of Community & Culture
Wednesday, December 7, 2022 - 6PM to 7PM
Register to attend virtually: bit.ly/CCCDUmojaKwanzaa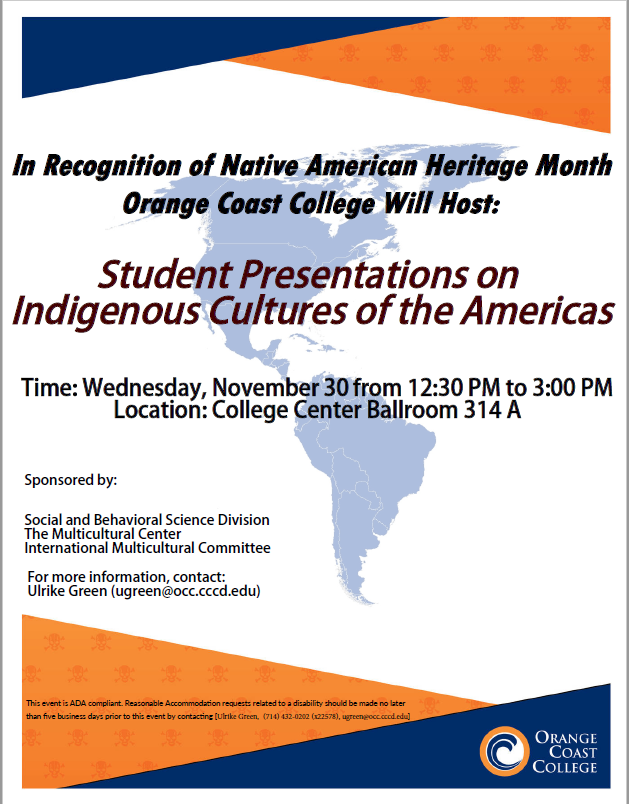 In recognition of Native American heritage month, OCC will host: 
Student Presentation on Indigenous Cultures of Americas
Wednesday, November 30th
12:30 PM to 3:00 PM
Location: College CEnter Ballroom 314A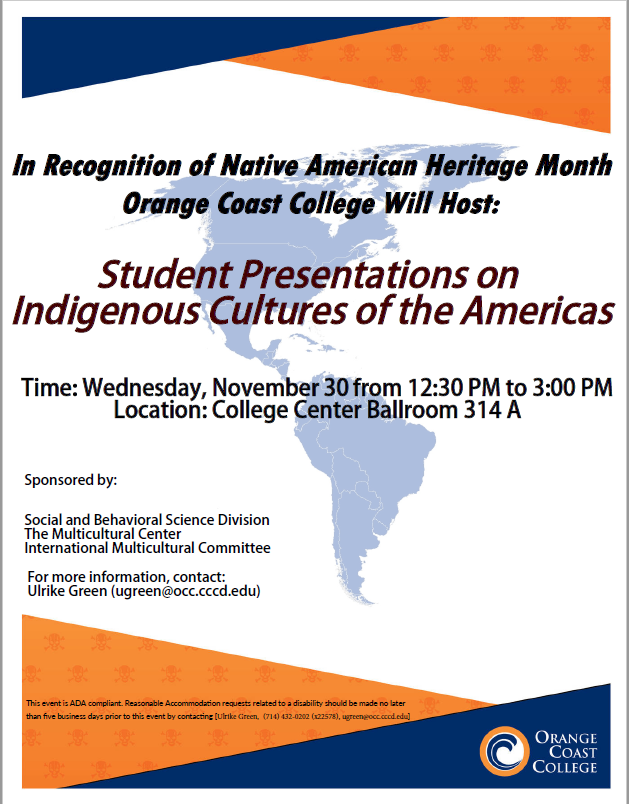 DIA DE MUERTOS - Commemorating Life, Death, and Community
Wednesday, November 2nd
Dia De Muertos Altar: Viewing from Noon-4:00 PM
Film Coco: Showing from 4:00-6:00 PM
OCC Multicultural Center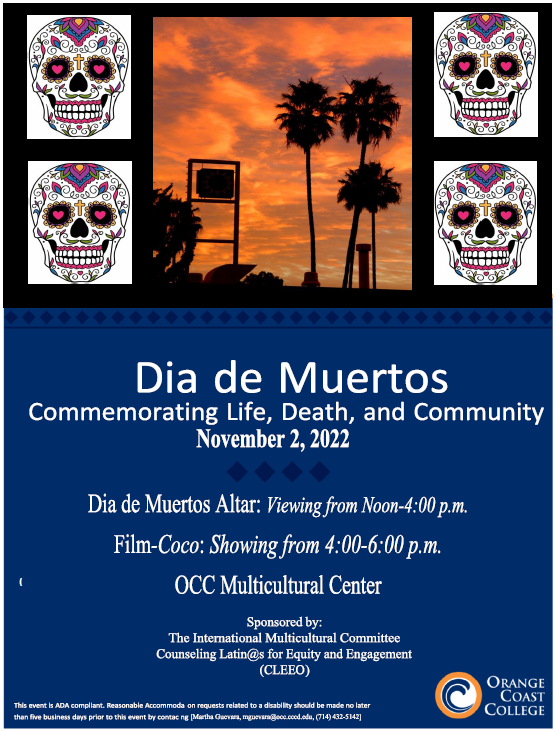 Wednesday, October 19th @ 3:00 p.m.
Missed this event? Watch a recording of it here. 
Warewolves and Other Betes Noirs: Sorcery as History in the Haitian Dominican Borderlands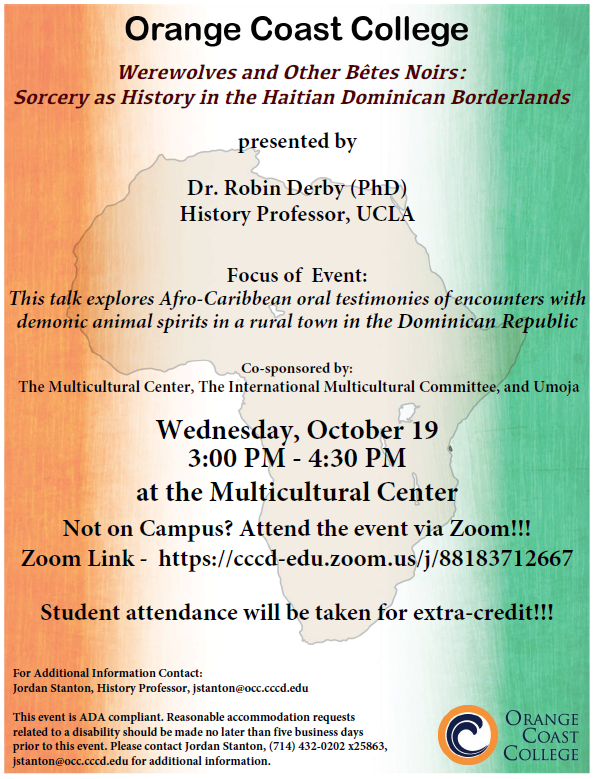 October 5th, 2022 1:00 p.m.  OCC Multicultural Center
Listening and Expression Session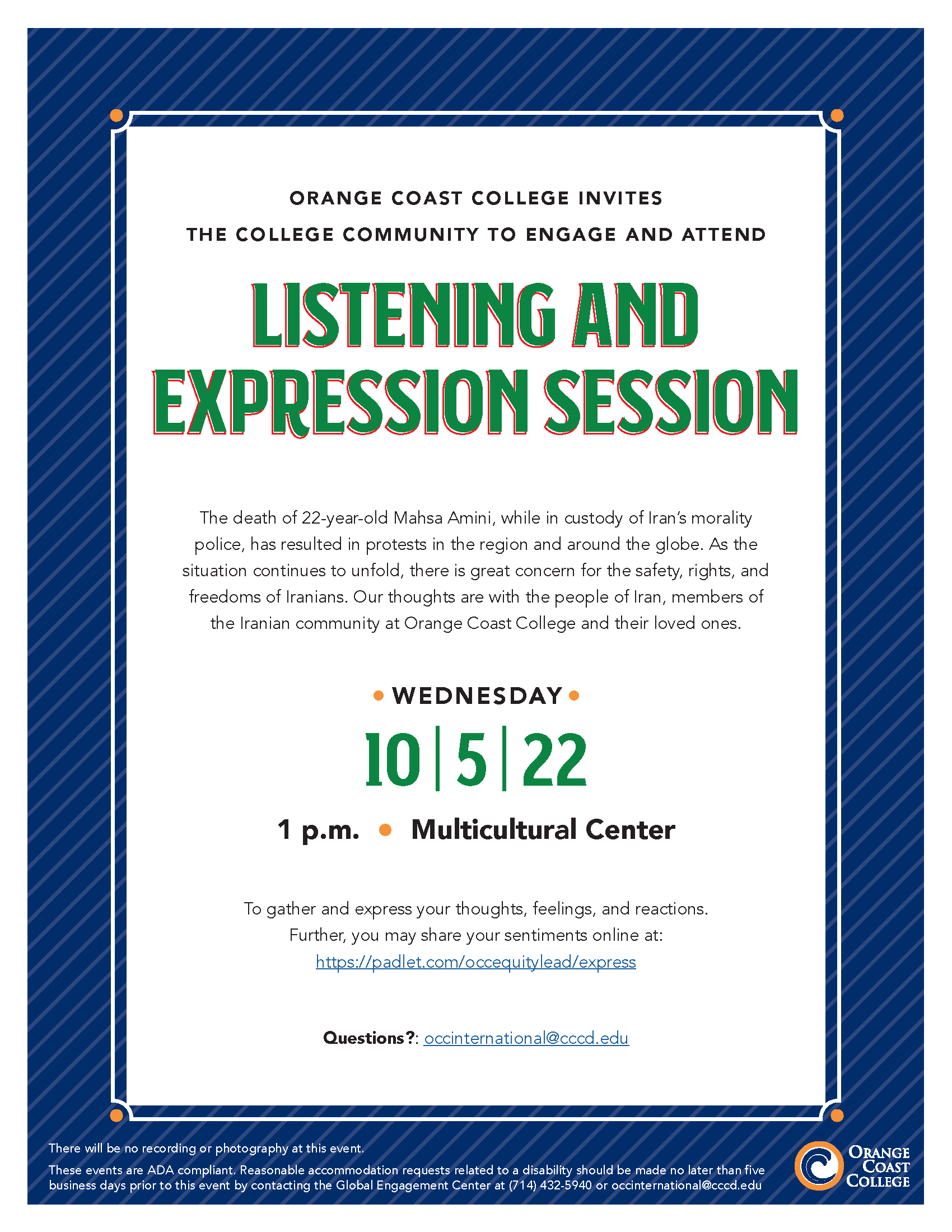 October 5th, 2022 5:00 p.m. -7:00 p.m. OCC Planetarium
CLEEO 13.0
Documentary Film Screening and Panel Discussion: Mariposas del Campo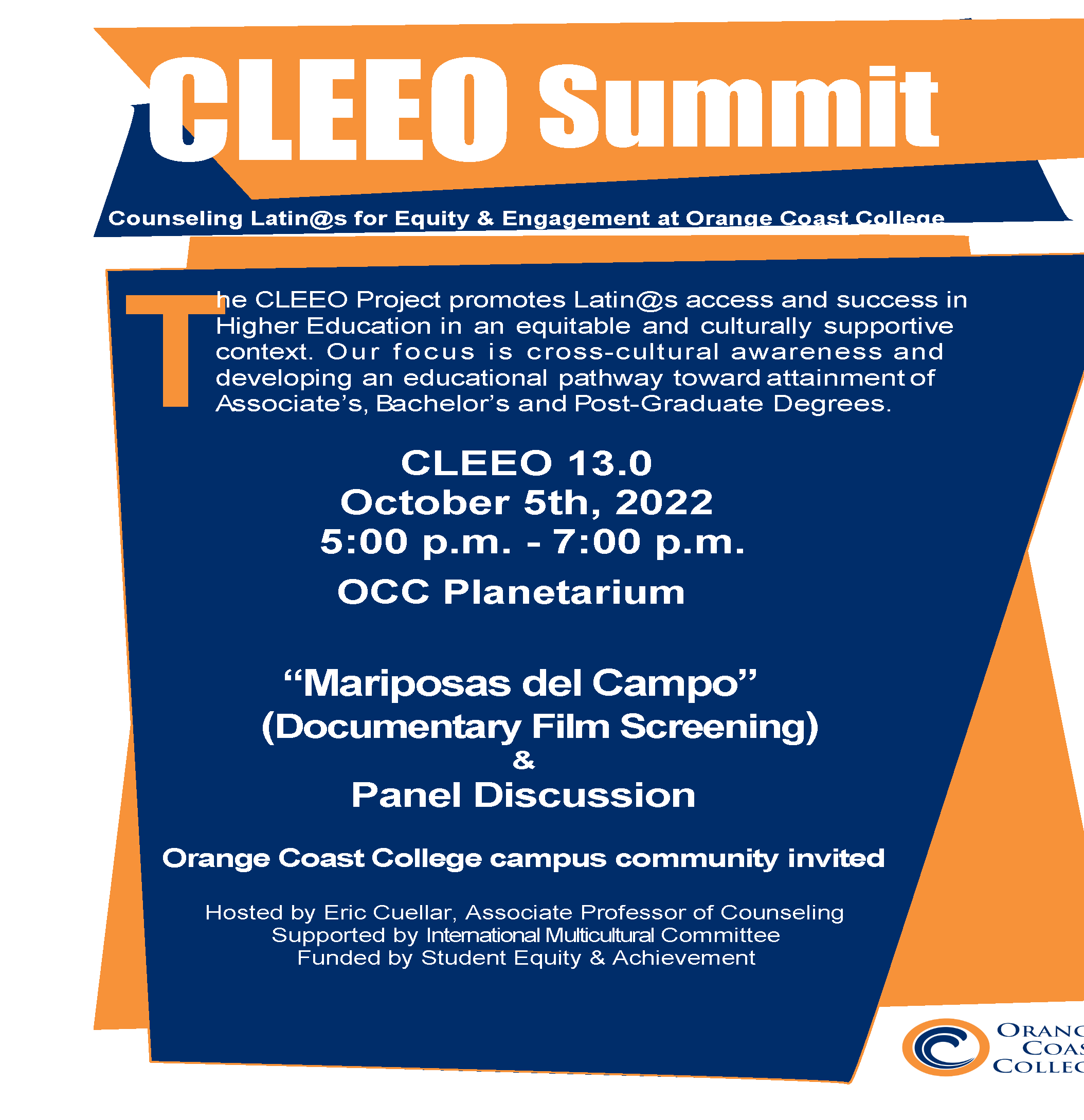 October 11th, 2022 3:00 p.m. - 4:00 p.m. ZOOM Webinar
Direct Link: https://bit.ly/3DlRbLq
 "Becoming Latinx Conscious & Responsive"
Dr. Frances Contreras
Dean and Professor, UC Irvine School of Education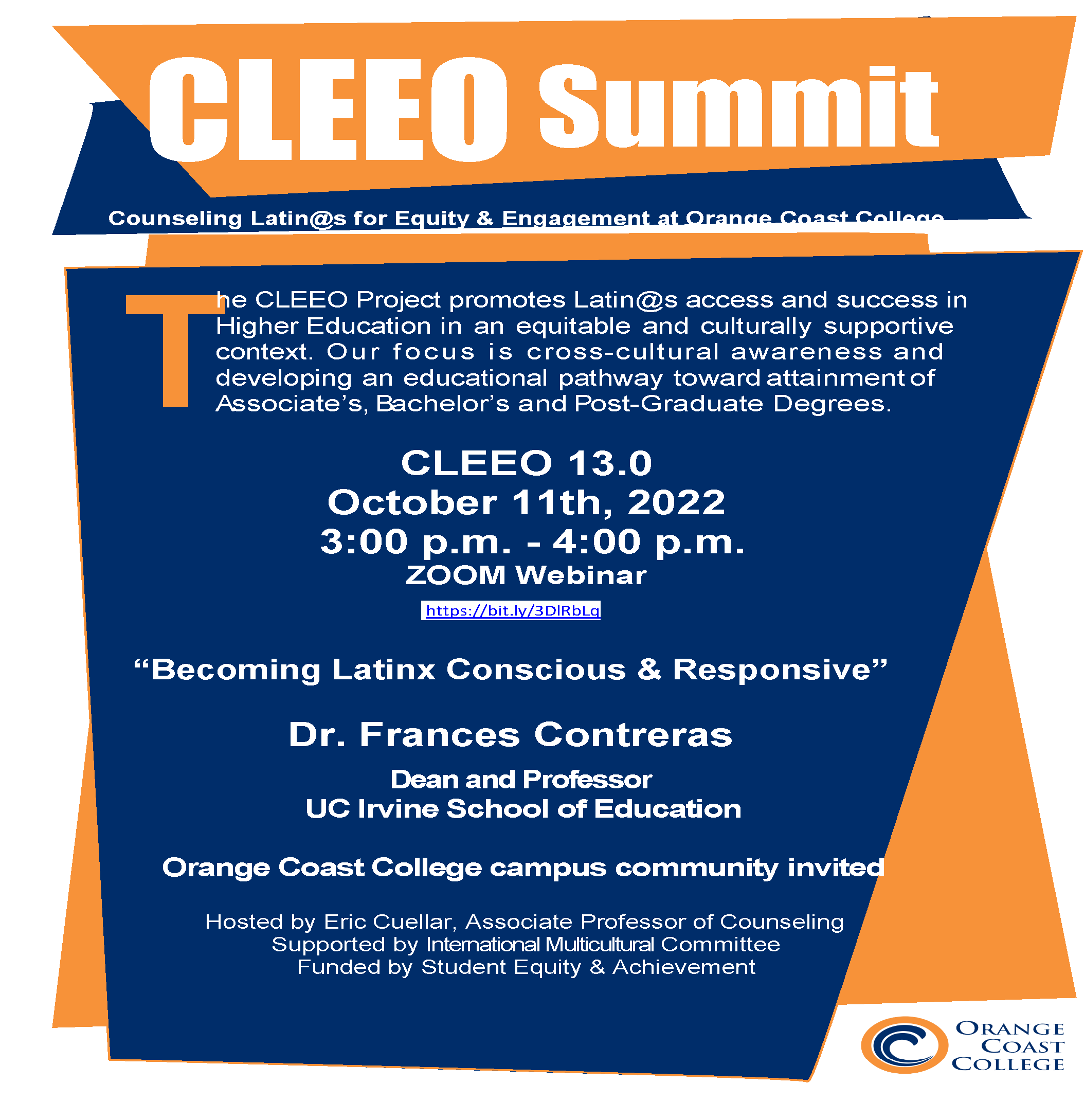 ---
Check back soon for more events!
All events are ADA compliant. Accommodation requests related to a disability should be made no later than five business days prior to an event by contacting the Global Engagement Center. Dates, times, and schedule subject to change.
Questions? Contact the Global Engagement Center: occinternational@cccd.edu or 714-432-5940