The Global Engagement Center Wishes you a
HAPPY LUNAR NEW YEAR 2023
Celebrate with us:
Thursday, February 2, 2023 - 12 to 2PM
Locations: booth outside of Starbucks
Pick up a Red Envelope with a Starbucks Surprise
Hang a wish on our Wishing Tree
Grab a free snack to go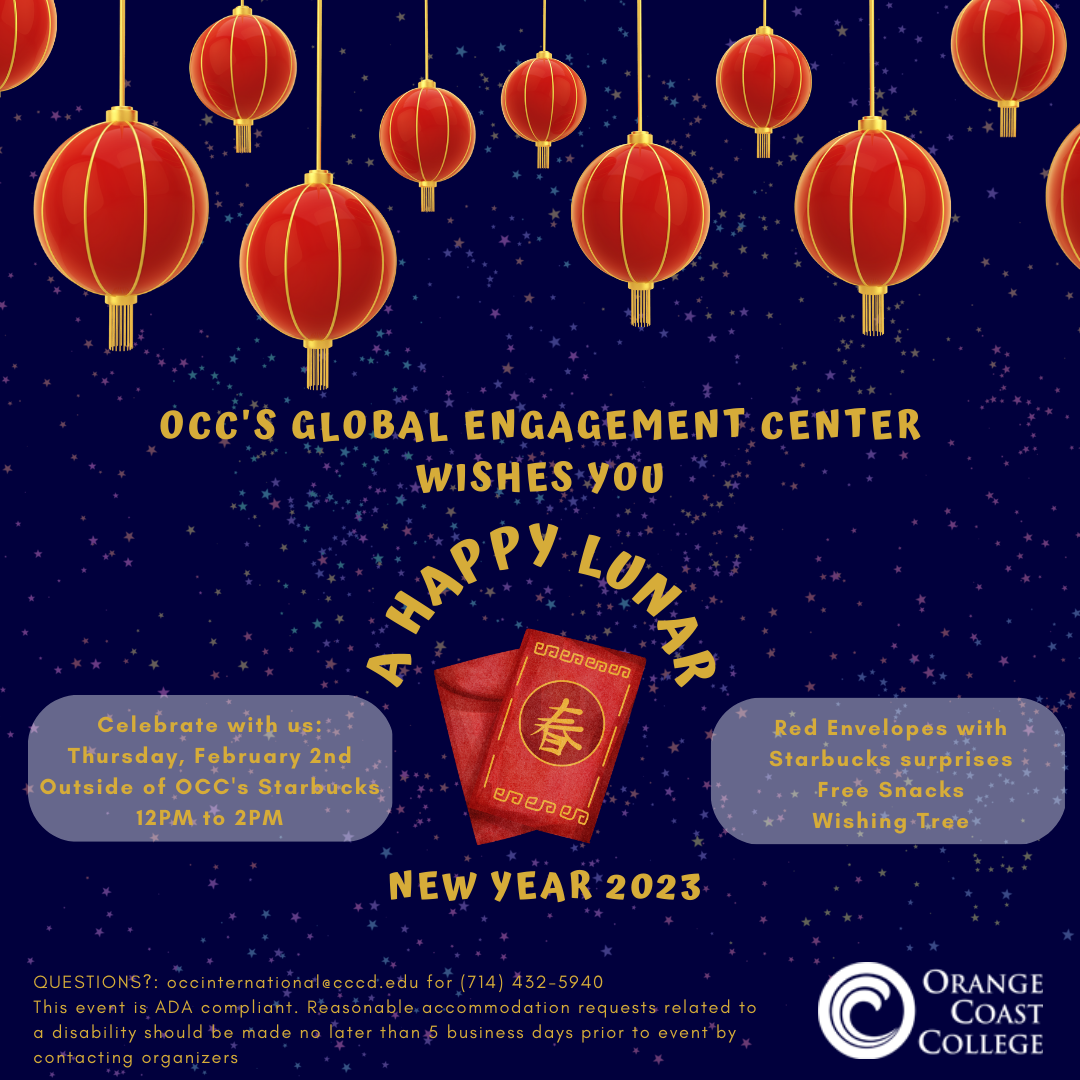 Black History Month: Through Our Lens...Culture, Business, Legacy
A month of events presented by Orange Coast College UMOJA, co-sponsors EOPS, Student Equity, Multicultural Center.
Monday, February 6 @ 1PM
Location: Campus Quad
Celebrating African culture through dance. African Soul International performance, live music and dance
Thursday, February 16 @ 1PM
Location: Student Union, room 213
Celebrating Black creativity through artistic voices. Brandon Alexander Williams, Author, All Def Poet, Spoken Word artist, MC, & DJ
Zoom ID: 868 9999 5617

Tuesday, February 21 @ 1PM
Location: student Union, Room 213
Celebrating Black Business and Economics. Black Wall Street presentation, De'von Walker, Founder of Play Black Wall Street
Zoom ID: 817 8224 4101
Wednesday, February 22 @ 4 PM
Location: Multicultural Center
Celebrating Black Legacy. Disrupting racism through the lens of Angstrom Hughes. Dr. Ron McCurdy, USC Professor
Zoom ID: 819 6688 9632
Coast Community College District UMOJA Community Presents
KWANZAA 101: A Celebration of Community & Culture
Wednesday, December 7, 2022 - 6PM to 7PM
Register to attend virtually: bit.ly/CCCDUmojaKwanzaa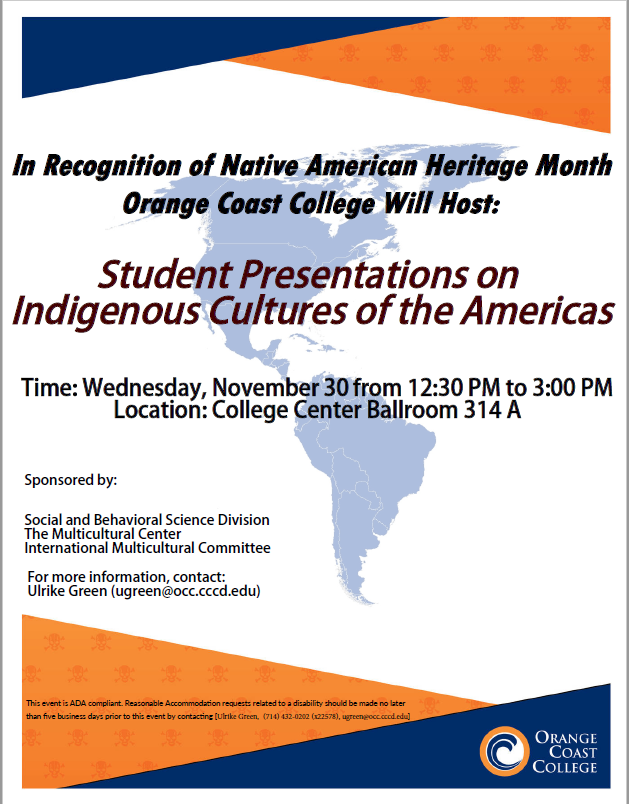 In recognition of Native American heritage month, OCC will host: 
Student Presentation on Indigenous Cultures of Americas
Wednesday, November 30th
12:30 PM to 3:00 PM
Location: College CEnter Ballroom 314A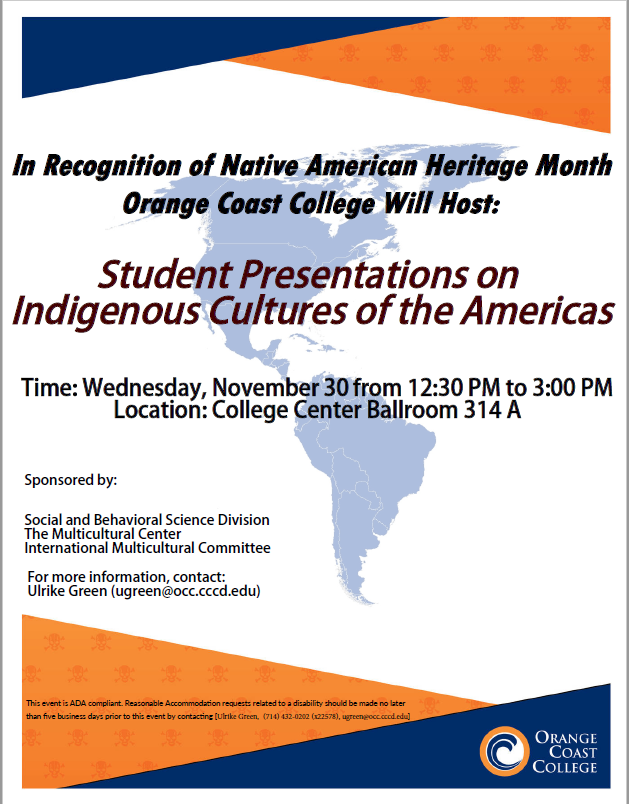 DIA DE MUERTOS - Commemorating Life, Death, and Community
Wednesday, November 2nd
Dia De Muertos Altar: Viewing from Noon-4:00 PM
Film Coco: Showing from 4:00-6:00 PM
OCC Multicultural Center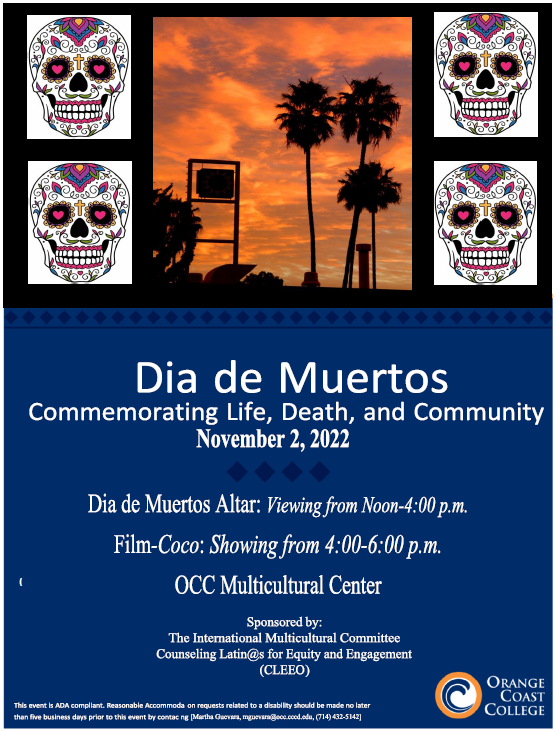 Wednesday, October 19th @ 3:00 p.m.
Missed this event? Watch a recording of it here. 
Warewolves and Other Betes Noirs: Sorcery as History in the Haitian Dominican Borderlands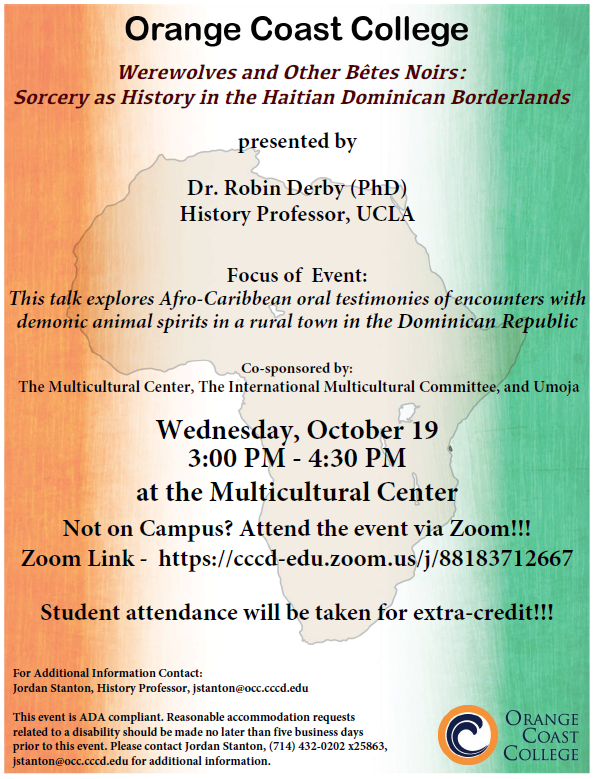 October 5th, 2022 1:00 p.m.  OCC Multicultural Center
Listening and Expression Session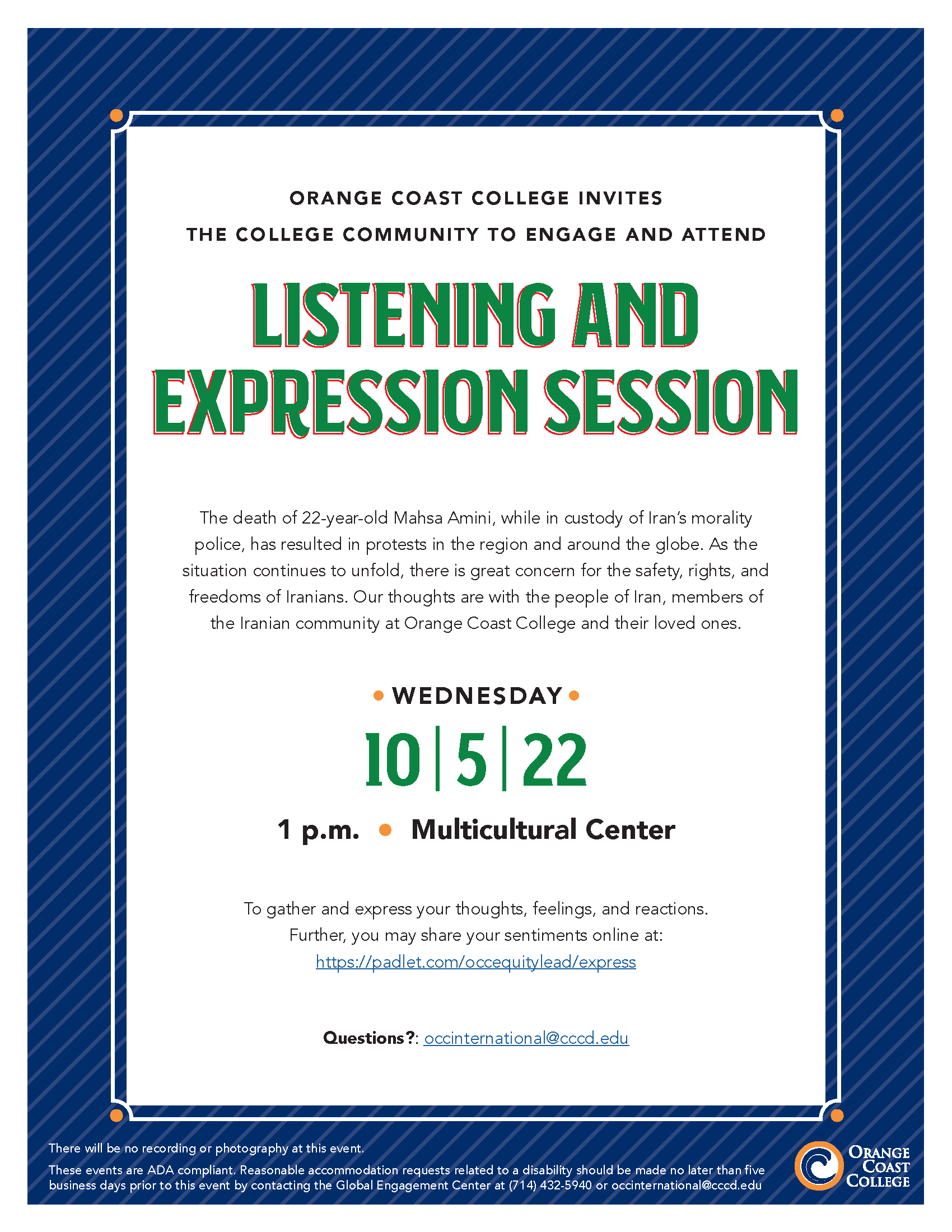 October 5th, 2022 5:00 p.m. -7:00 p.m. OCC Planetarium
CLEEO 13.0
Documentary Film Screening and Panel Discussion: Mariposas del Campo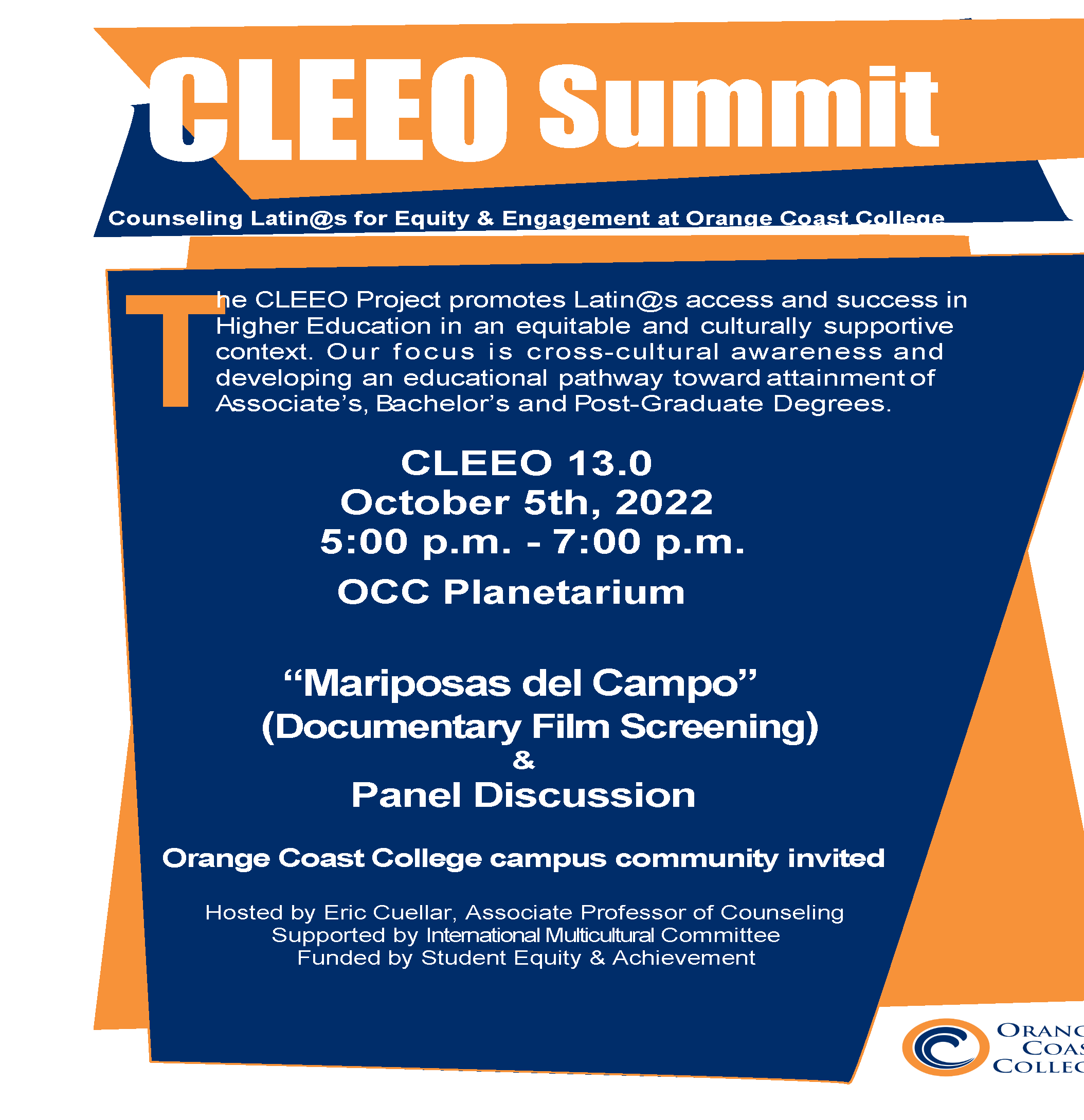 October 11th, 2022 3:00 p.m. - 4:00 p.m. ZOOM Webinar
Direct Link: https://bit.ly/3DlRbLq
 "Becoming Latinx Conscious & Responsive"
Dr. Frances Contreras
Dean and Professor, UC Irvine School of Education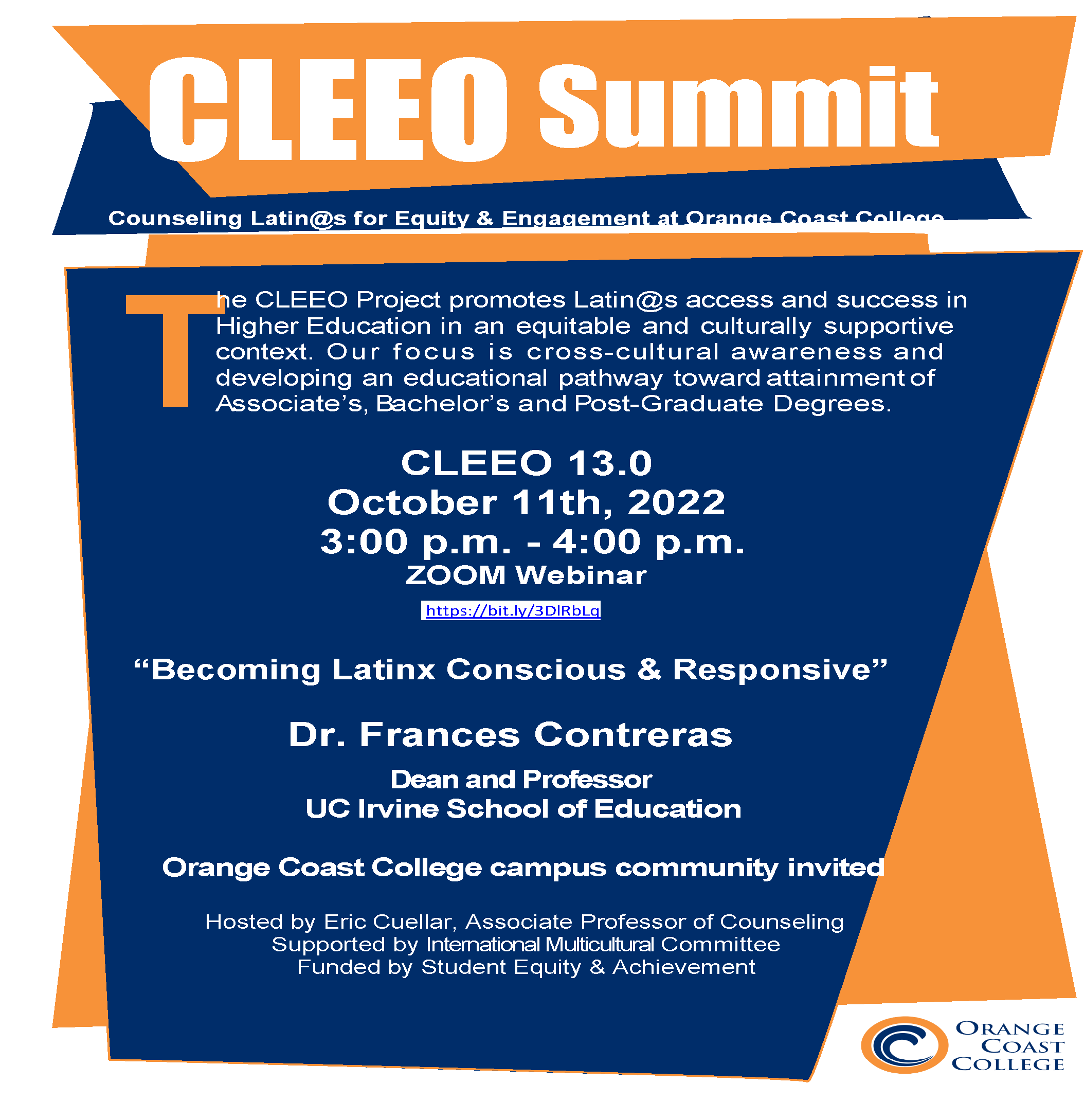 ---
Check back soon for more events!
All events are ADA compliant. Accommodation requests related to a disability should be made no later than five business days prior to an event by contacting the Global Engagement Center. Dates, times, and schedule subject to change.
Questions? Contact the Global Engagement Center: occinternational@cccd.edu or 714-432-5940