Registration Information 
Orange Coast College offers many virtual resources to assist students with getting registered for the Fall 2022 semester! 
Please note that students are NOT REQUIRED to meet with a counselor prior to registering for classes. Students may register for classes regardless of if they have attended a counseling appointment or not. Counseling Appointments will assist students with setting up their Student Educational Plans (SEPs), however, students will not register for classes during their counseling appointments. 
REGISTRATION RESOURCES
Video: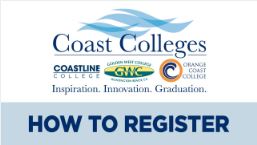 Watch This Video on How To Register For Classes (5:23)
On the Web: 
The Future Pirate Center offers services to support you every step of the way.  Check them out!
Take a look at the Future Pirate Events for support ranging from Registration Support to Application Workshops both virtually and on campus!
INFORMATION REGARDING COUNSELING APPOINTMENTS & REGISTRATION
If you would like to meet with a counselor to discuss your classes but appointments are full for the week, you can always register for classes, meet with a counselor on a future date, and then add or drop classes based on your appointment with the counselor. Students may add or drop classes beginning on their registration date and time and may continue to do so up until the first day of the semester. 
Please also check your Web Schedule Bill (MyCoast Portal > Registration > Other Student Resources > Student Class Program [Web Schedule Bill] ) for more information on Refund Deadlines, Last Day to Drop Without a W, and Last Day to Drop With a W.