Aquarium Tours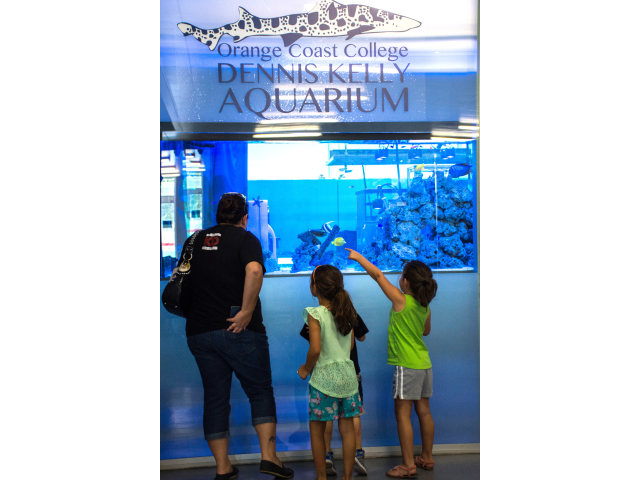 The OCC Dennis Kelly Aquarium offers private tours for anyone interested in visiting our facility during the normal semesters
(mid-Feb through May, & Sept through mid-Dec)
. The tours are run by student aquarium managers and are designed to inform prospective students, visiting classes, educational groups, and community members about the diversity of marine life exhibited in the Marine Science Department. The tours highlight our diverse exhibits that are meant to replicate a variety of different habitats ranging from local marine communities, tropical reefs, freshwater planted systems, and stock restoration projects. This gives our student managers the opportunity to talk about the work that they do and gain experience with public speaking.
Tours are generally about 30 – 45 minutes long and may include short feeding demos upon request depending on the time and day of the tour. Times are dependent on student aquarium manager schedules as well as the availability of the aquarium lab room since classes are held there throughout the week. As a relatively small teaching facility, we can generally handle group sizes of about 30 visitors at a time. Larger groups can sometimes be accommodated by organizing rotations coupled with a planetarium visit next door at the
OCC Planetarium
.
If you would like to schedule a tour, please contact us at
occaquarium@occ.cccd.edu
. Please include info on the size of your group, visitor age ranges, preferred times and dates, and anything specific that you are interested in learning more about during your visit.
The OCC Aquarium is located in the Lewis Center for Applied Sciences near the Library and the OCC Planetarium. For directions, see the 
campus map
.
We look forward to seeing you at the OCC Aquarium.