Degrees & Certificates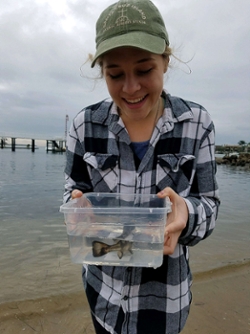 The OCC Marine Science Department offers two Associate of Science (A.S.) degrees (Marine Science, and Applied Ocean Science & Technology) and three certificate paths (Aquarium Science, Marine Mammal Field Studies & Conservation, and Marine Conservation & Monitoring) for students interested in different aspects of marine science. Students can choose to complete one or multiple of these programs, or just take individual courses depending on their interests and goals.

Marine science is an interdisciplinary field that requires a background in a number of different natural and social sciences, although students generally specialize in one particular aspect of marine science. The A.S. degree in Marine Science is meant to provide students a survey of the many diverse disciplines of marine science, give them hands-on experience working with living organisms and water chemistry, and illustrate the many ways the ocean influences life. It can be either an initial step for students looking to pursue a higher degree in marine science at a four-year institution, or as an emphasis in marine science for students that plan to get a Bachelor's degree in a variety of other fields. Many of these fields can benefit from a solid understanding of marine processes and communities, but do not require all of the prerequisite courses for a Bachelor's degree in marine science. Links to external sites that describe the diverse career opportunities available to marine science majors can be found on our Getting Involved & Student Resources page.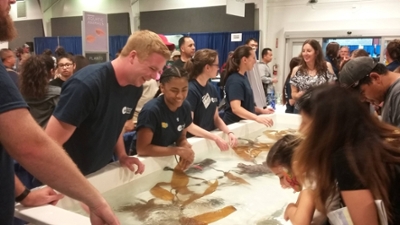 The A.S. degree in Applied Ocean Science & Technology is a collaborative degree offered between the Marine Science Department and the Professional Mariner Program. It is designed to provide a broad base of practical field and lab-based skills, and to strengthen and complement the background of students planning to obtain a Bachelor's degree in a marine-related discipline with practical experience and marketable certifications. The experience can develop and strengthen skillsets so students are more competitive in the job market after completing their Bachelor's degree. In addition to basic coursework in marine science, students will focus on boat handling, navigation, and vessel safety, as well as building and maintaining aquarium life support systems, animal husbandry, and research and monitoring equipment, procedures and techniques.
Marine Science Department A.S. Degree Official Requirements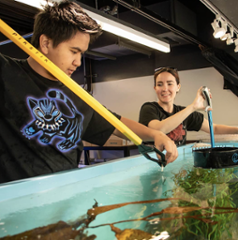 Students also have the ability to earn a total of three Certificates of Achievement within the Marine Science Department. The Certificate of Achievement in Aquarium Science helps students gain hands-on experience in the applied, interdisciplinary field of aquarium science which combines aspects of animal husbandry, community ecology, water chemistry, system design and construction, aquaculture, critical thinking, problem-solving, facility maintenance, and group management. This certificate is designed to prepare students interested in gaining experience with aquarium systems and caring for living organism in preparation for a variety of potential future goals. These goals may include working for zoo and aquarium facilities, local aquarium retailers, wholesale supply companies, private maintenance companies, as part of a hands-on experience for an advanced degree in Marine Science, organizations/agencies working on water filtration and water quality, stock restoration and conservation projects, research involving keeping aquatic living organisms, and/or the recreational hobby of aquarium-keeping. Students will gain a wide variety of hands-on experience in a number of different skills working in the "Student-run" OCC Aquarium -- one of the largest and most diverse student-run aquariums in the region.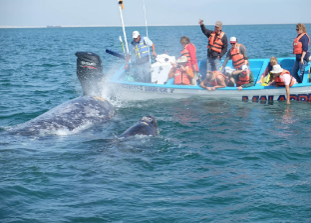 The Marine Mammal Field Studies & Conservation certificate is designed to prepare students interested in gaining experiential learning in various fields of marine mammal research, public outreach, education and conservation.  This introductory exposure will allow them to make important contacts and gain fundamental skills and theoretical knowledge in the field of marine mammalogy and conservation. Some of the coursework for this certificate is held off-campus at the Pacific Marine Mammal Center where students can learn more about how rescue and rehabilitation facilities work to care for seals and sea lions.

The Certificate of Achievement in Marine Conservation & Monitoring is designed to provide students with experience utilizing a variety of different research equipment, field-based sampling techniques, and analytical tools to collect, analyze, and evaluate data. Particular attention is given to the collection of field data and how conclusions drawn from that data can be used to inform conservation-based policies.

Marine Science students can also work towards a career in the maritime industry by getting an A.S. degree or certificate with our affiliated OCC Professional Mariner Program.
Marine Science Department Certificate of Achievement Official Requirements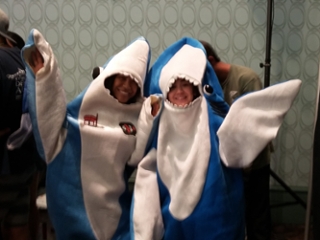 Students interested in pursuing any of these opportunities should  consult a counselor and  schedule a meeting with Marine Science faculty to discuss requirements and semester course offerings.
Contact Marine Science Faculty   Consult an OCC Counselor   Schedule a Meeting with Marine Science Faculty