2021 Flu Vaccine Information Statement (VIS)
Flu season is here and the OCC Student Health Center is encouraging everyone to get their flu shot. Influenza (flu) is a serious respiratory illness caused by flu viruses.  Flu can cause mild to severe illness and sometimes death. It is contagious, spreads worldwide and is most common during the fall and winter. It is likely that flu viruses and the COVID-19 virus will both be spreading this fall and winter, so it is especially critical to prevent the flu. The best way to prevent flu is by getting a flu shot every year.
Get Your Flu Shot
The Centers for Disease Control and Prevention (CDC) recommends a yearly flu vaccine as the first and most important step in preventing the flu. Free flu shots are available at the Student Health Center for OCC & Coastline students who have paid their health fee. Appointments are required. All students will need to complete a flu vaccine consent. Supplies are limited. Call us at 714-714-7705 to schedule your flu shot. If you have health insurance, flu shots are typically covered at no cost, schedule with your local pharmacy. There are many other ways to get your flu shot:
With Your Doctor: If you have health insurance, you can get your flu vaccination with your primary care provider. It is often free. Check with your doctor's office.

At the Health Department: If you don't have a primary care provider or health insurance, you can get a free flu shot at the Orange County Health Care Agency Flu Clinic at 1725 W. 17th Street, Santa Ana, CA 92706. Free flu shots will be available Monday to Friday, starting September 25, 2023, from 8:00 a.m. to 11:30 a.m. and 1:00 p.m. to 4:00 p.m. Closed 11:30 a.m. to 1:00 p.m. An appointment is needed. Flu shots subject to availability. To make an appointment, please call 1-800-914-4887.

At a Local Clinic: Orange County community sites are offering free flu vaccinations. View the list of local Flu Clinic Locations.

At a Pharmacy: Flu shots are available at various pharmacies. Ask your health plan to see if it's covered. View the Vaccine Finder to find a pharmacy where you can get flu shots.
Preventing the Flu
People who have the flu can spread the virus to others. When someone ill with the flu coughs, sneezes or talks, droplets are released. These droplets can land in the mouths or noses of those nearby. People can also get the flu by touching a surface or object, such as doorknobs or tables, that has flu virus on it and then touching their mouth or nose afterwards.
In addition to getting the flu shot, there are also everyday actions that can help prevent the spread of germs that cause respiratory illnesses like influenza. Take these everyday steps to protect your health and the health of others:
Cover your nose and mouth with a tissue when you cough or sneeze. Throw the tissue in the trash after you use it.

Wash your hands often with soap and water, especially after you cough or sneeze. If soap and water are not available, use an alcohol-based hand sanitizer.

Try to avoid close contact with people who may be at risk of becoming severely ill, such as pregnant women, children, and those with chronic illness (i.e., asthma).
Please view how you can do your part to slow the spread of flu.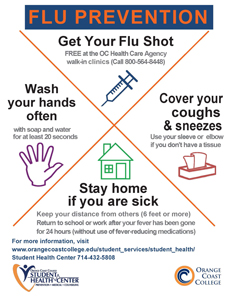 How Do You Know if You Have the Flu
The flu can cause mild to severe illness. It can sometimes lead to death. People who get sick with the flu often feel it come on suddenly and feel some or all of these symptoms:
fever* or feeling feverish/chills (*not everyone with flu will have a fever)
cough
sore throat
runny or stuffy nose
muscle or body aches
headaches
fatigue (tiredness)
vomiting or diarrhea (this is more common in children than adults)
What is the Difference Between Flu and a Cold?
Flu is different from a cold. Flu and the common cold are both respiratory illnesses but caused by different viruses. Both illnesses have similar symptoms but generally, flu symptoms are worse and more intense than the common cold. People sick with colds are more likely to have a runny or stuffy nose. Compared to the flu, colds do not lead to serious health problems like pneumonia, bacterial infections or hospitalizations.
Because these two illnesses have similar symptoms, it may sometimes be difficult to distinguish between them based on symptoms alone. In these cases, special tests can determine if a person is sick with flu. These tests usually must be done within the first few days of illness.
Learn more about Cold vs. Flu.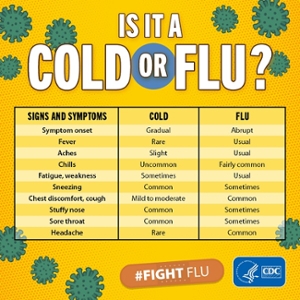 What is the Difference Between Flu and COVID-19?
Flu and COVID-19 are both contagious respiratory illnesses caused by different viruses. Flu is caused by infection with influenza viruses and COVID-19 is caused by infection with a new coronavirus called SARS-CoV-2. Flu and COVID-19 share similar symptoms so it may be difficult to differentiate them based solely on symptoms. A diagnostic test can help determine if you are sick with the flu or COVID-19.
To learn more about key similarities and differences between COVID-19 and flu, please view the CDC table that compares COVID-19 and flu with the best available information to date. There is still much that is unknown about COVID-19.
Can I Have Flu and COVID-19 At The Same Time?
There is possibility that you can be sick with the flu and COVID-19 at the same time. There is still much that is unknown about COVID-19 and health experts are still researching how common it can be to have flu and COVID-19 at the same time.
If You Are Sick With Flu-like Symptoms
If you have an illness that could be the flu, stay home and contact your healthcare provider for medical advice. You should be fever-free (less than 100⁰F) without using fever-reducing medications for at least 24 hours. Stay home from others as much as possible to avoid infecting them. Please contact your instructors as soon as possible to inform them of your absence. 
When to Seek Immediate Medical Care
If you or someone you know is sick and shows any of the following symptoms, get IMMEDIATE medical care: 
Fever over 101⁰F, lasting more than 4 days, or begins later in the illness
Difficulty breathing or shortness of breath
Pain or pressure in the chest or abdomen 
Lightheadedness or sudden dizziness
Confusion
Excessive drowsiness
Soaking sweats
Shaking chills
Severe or persistent vomiting or diarrhea, especially if black or bloody
Severe dehydration: 

Signs include extreme thirst, urinating less than normal, shriveled skin, dizziness and confusion. Children and older adults with signs or symptoms of dehydration require immediate referral to the doctor.

Symptoms worsening after 2-3 days. 
If you have fever or respiratory symptoms and need to seek medical attention, please wear a face mask when outside of the house and notify the receptionist immediately of your symptoms upon arrival at the facility.