Peer Health Educators are trained OCC student leaders who are committed to promoting healthy behaviors and lifestyle choices. They support the well-being and academic success of their peers by addressing various health topics (stress, mental health, suicide prevention, alcohol use, safer sex & relationships, etc) through campus-wide events, awareness campaigns and outreach activities. These include the Suicide Prevention Fair, Stress Less Finals Week, Flu Prevention, Alcohol Awareness Fair, Pink Power Day, "I Am OCC" campaign and "LessThanUThink" campaign. Throughout the semester, the Peer Health Educators (also known as PHAcT, the Peer Health Action Team) can be seen on campus in the Student Health Center "Health Hut" passing out giveaways and engaging in fun activities, such as games and trivia questions related to sexual health, alcohol use, mental wellness, etc.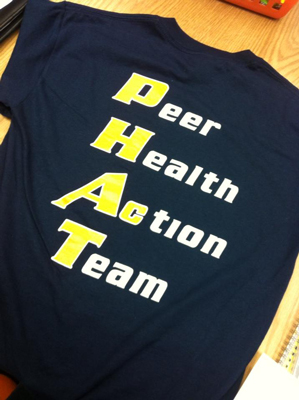 Benefits of Being a Peer Health Educator
Becoming a PHAcT member provides an opportunity for students to have a unique and powerful relationship with their peers, learn about the field of health promotion, and help create a healthy environment throughout campus. Other benefits include:
Gain transferable CSU course credit and national certification
Enhance resume for college transfer, nursing or other allied health programs
Become a candidate for OCC scholarships and awards
Learn about a variety of health topics
Collaborate with student organizations and campus departments
Gain leadership, collaboration, and presentation skills
Become a Certified Peer Health Educator
Students of all majors and interests who are currently enrolled in OCC are welcome to become peer health educators through the PHAcT program.  Peer health educators commit to a full semester of service.  Training to be a peer health educator is completed through preparation in a 2-unit course (Health Education A160: Peer Educator Level 1). Topics covered include strategies for behavior change, referrals, programming, presentation and group success. Students will be certified as peer educators through the BACCHUS national certification exam at the end of the course.  
To become a Peer Health Educator, please sign up for Health Education A160: Peer Educator Level 1 (HLED A160 / PUBHA160). May be taken for grades or on a pass/no-pass basis. Lecture, Lab.  
Pink Power Day
OCC students, faculty, and staff can learn about breast cancer during Pink Power Day, a breast health awareness campaign developed by the Student Health Center and Peer Health Action Team in observance of Breast Cancer Awareness Month (October).  Pink Power Day aims to increase early detection of breast cancer. Breast cancer is the second most common cancer in American women – 1 in 8 women will be diagnosed with breast cancer during their lifetime. While breast cancer diagnosis is mostly found in women who are 50 years of age or older, young women can and do get breast cancer. About 11% of all new cases of breast cancer are found in women younger than 45 years old. Because there are few effective breast cancer screening tools for women younger than 45, and the signs of breast cancer are not the same for all women, the Student Health Center is promoting breast self-awareness. All women are encouraged to know how their breasts normally look and feel, and to get checked immediately if any changes are noticed. 
Pink Power Day activities include the Bra Pong Game, Photo Booth Pledge, and Fighter/Survivor/Taken Wall.
Discuss any questions or concerns about your breast health with the Student Health Center by calling (714) 432-5808. 
Wellness Central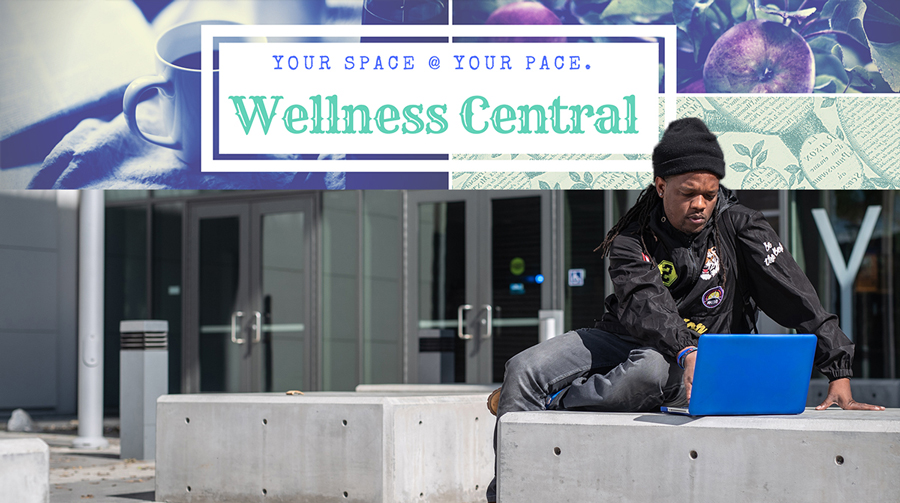 Every year, college students are affected by a multitude of health issues. Wellness Central, a new online health and wellness tool with content tailored to the needs of California Community College students, is now available on Canvas.
Containing resources about emotional, social, physical, academic, financial, and spiritual health and wellness topics, the tool has been tested with current students who described it as "comprehensive," user-friendly, and "something that's been sorely lacking for CCC students."
Wellness Central was created by Health Services Association - California Community Colleges (HSACCC), the California Virtual Campus - Online Education Initiative (CVC-OEI), the Foundation for California Community Colleges, and the California Community College Mental Health & Wellness Association (MHWA). Promoted by the California Community Colleges Chancellor's Office, Wellness Central is beginning its pilot year.
Explore Wellness Central on Canvas now.