Announcements
IT IS HIGHLY RECOMMENDED THAT IF YOU HAVE SYMPTOMS OF ILLNESS, PLEASE DO NOT COME TO CAMPUS. EVEN IF YOUR COVID TEST IS NEGATIVE, RSV AND FLU ARE HEAVILY CIRCULATING. PLEASE SEE YOUR HEALTHCARE PROVIDER AND INFORM YOUR PROFESSORS.  
 
Come in & Get your FREE FLU SHOT. Available now for enrolled students who have paid their health fee at the OCC Student Health Center by appointment only. Call 714.714.7705 to schedule.
Office Hours
Mon to Thu: 9 a.m. - 5 p.m., Closed 12 p.m. - 1 p.m.
Fri: 9 a.m. - 12 p.m.
Closed: Weekends, Holidays and Semester Breaks
Get Help
Services are available to currently enrolled Intersession students who have paid their health fee. Prompt closure may occur in response to state, local or campus safety orders.
Emergencies
Call 911 for medical or mental health emergencies
To Report On Campus Emergencies, Call Campus Safety at 714-432-5555.
Health Portal
Save time and complete health forms online before your appointment.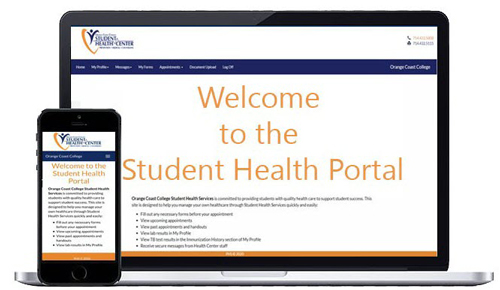 Novel Coronavirus (COVID-19)
If you tested POSITIVE for COVID-19 or HAVE COVID-19 symptoms, please complete the Student Reporting Form
Please check your student email for further instructions after submission. We do not inform your instructors of your COVID status, but we will send you an isolation timeline that you can forward to your professors.  It is your responsibility to contact your professors and ask for accommodations. 
Please do NOT come to the campus with COVID or COVID-like symptoms. Even if you test negative for COVID, there are many other contagious viruses such as RSV and Influenza circulating. It is important to get tested and visit a healthcare provider for proper treatment and illness documentation.  
ISOLATION INSTRUCTIONS:
If you test positive for COVID-19, report using the link above, then you may need to isolate for up to 10 days after your positive test or symptoms start date. 
You may end isolation after 5 days if you meet the following criteria:  
Test negative on day 5 (day 0 is the date of the positive test/symptoms) or later 

 

And

 you have no fever without the use of fever-reducing medication 

 

And

 your symptoms are improving. 

 

You will need to send us a picture of your negative Antigen test taken at least 5 days after the date of your positive test/ symptoms.

(Please provide your picture ID and the test date with your result) At home COVID antigen tests are acceptable for clearance.

 

If you choose not to test on day 5 or later, you may safely return to campus after 10 days only if your COVID-19 symptoms have improved and you are free of fever without the use of fever-reducing medication at least 24 hours before your isolation end date. Your isolation is based on your test results and your symptoms. If you are still experiencing symptoms, notify the Student Health Center at 714-714-7705. Please contact us if you have been on campus 48 hours prior to testing positive.   
The Student Health Center does NOT do COVID-19 Testing for travel.
This is general information provided as a resource for symptomatic people looking for testing. We are not affiliated with any of the following resources.
Insured can get up to 8 free or reimbursed home tests monthly at pharmacies: How to Get At-Home COVID-19 Tests at CVS, Kaiser, Rite Aide, or Walgreens. Contact your insurance for more information.
Uninsured: Take Home COVID-19 Tests are available at the Student Health Center while supplies last.
Most Urgent Care Clinics and major pharmacies can also test for COVID-19. Call your insurance or check their website's for coverage.
Prevention is the best strategy to reduce your risk of viral infection.
Wash your hands often with soap and water for at least 20 seconds, especially after you have been in a public place. Use an alcohol-based hand sanitizer with at least 60% alcohol if soap and water are unavailable.
Avoid close contact with people who are sick or people outside of your home - keep at least a 6-foot distance. Remember that some people without symptoms can spread the virus. 
Wear a well fitting mask in poorly ventilated spaces and crowds.
Disinfect commonly touched surfaces such as counters, tables, keyboards, and doorknobs.
Avoid sharing drinks, eating utensils, sports equipment, towels and bedding.
Keep healthy by eating a balanced diet, drinking water, getting enough sleep, and managing stress.
Obtain a preventative vaccine such as the COVID-19 vaccine or flu shot if available.
For more information, call 1-800-CDC-INFO or view  CDC - How to Protect Yourself & Others.
RSV (Respiratory Syncytial Virus) Prevention
Do not go to school or work when you are symptomatic.
Avoid close contact such as kissing, hugging, and sharing cups or eating utensils with people who are sick, and when you are sick.
Cover your coughs and sneezes with a tissue or your upper shirt sleeve, not your hands.
Mask when indoors or large group settings.
Wash your hands frequently, especially before and after eating and using the bathroom.
Get your flu shot and COVID-19 vaccines to prevent complications from these viral illnesses.
Parents and caregivers should keep young children with acute respiratory illnesses out of childcare, even if they have tested negative for COVID-19.
For more information, please view the following sites:
CDPH RSV Health Advisory
and
CDC RSV Information
.
Monkeypox Information
Health Referral Line: call 211 or 800-564-8448
Monkeypox Vaccine: please view Othena.com
Welcome Coastline (CCC) Students
Medical services are provided to enrolled Coastline students who have paid the health fee through a contractual agreement with Orange Coast College Student Health Center.
For Coastline College Mental Health Services, COASTLINE (CCC) College students may call 714-241-6005 for an appointment.