Save Time and Login to:
Get your Zoom link for telehealth appointments
Complete required forms in the My Forms section
Receive secure messages from your provider in the Messages section
View and print your lab or TB results and medical health record in the My Profile/Images section
View past and upcoming appointments and educational handouts in the Appointments section
It's easy! Go to Student Health Portal and log in with your MyCoast single sign on login information.
New patients and patients whose last visit at the Student Health Center was over one year ago can save time during their first appointment by completing necessary forms online. Simply use the Student Health Portal​ and upon arrival for your appointment, let the Front Desk staff know you have completed the forms online.
Instructions:
Please view Student Health Portal 
Log in using your MyCoast single sign on login credentials 
Click on the "My Forms" tab 
Click and fill out all available forms 
Submit and sign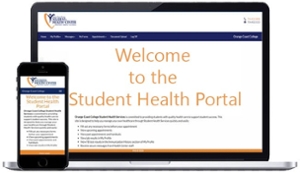 Information, Privacy and Chart Notes in the Student Health Portal
Obtaining Your OCC Health Records
When logging in to the Student Health Portal, in the "My Chart" section under the "My Profile" tab, you will be able to access notes (for visits after April 1, 2020) entered by clinicians regarding your health care visit. For records prior to April 1, 2020, please call the Student Health Center at (714) 714-7705 for a records request.
We encourage patients to make appointments with providers to go over any notes for visits of a private or sensitive nature, so the notes can be discussed in the whole context of your care.
The goal is to provide you, the health care consumer, the information you need to have agency and ownership of your health care decisions, with the aid and assistance of your providers.
Please note: the Student Health Center does not receive your outside medical records or immunization records unless you personally shared those with us.  Immunization records are not a requirement of enrollment at Orange Coast College. 
Safeguarding Your Privacy
If you have shared access to your MyCoast account with family members or other individuals, we encourage you to change your password to ensure your health information is kept private to you.
Keep your login name and password private.
Always exit the website by selecting "Log Off" when you are done.