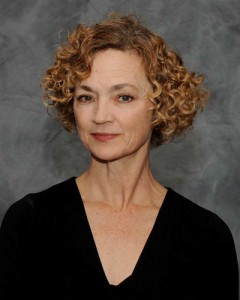 Amelie Hunter holds an MA from UCLA in Dance Ethnology and an MFA from New York University's Tisch School of the Arts in Performance and Choreography.  A full-time faculty member at OCC since 2001, Amelie teaches ballet, Pilates and modern dance, and she directs the dance department's certificate programs, faculty dance concert, and Pilates guest speaker series.
A Louisiana nativ​​e, Amelie began her dance training with the Baton Rouge Ballet Theatre, where she became a lead soloist and choreographer.  She continued her ballet studies with John Marshall, Lawrence Rhodes, Cindy Green, and faculty members of the Royal Academy of Dance in London.  She studied modern dance with Sarah Rudner, Milton Meyers, and members of the Limon, Paul Taylor and Twyla Tharp companies.
Amelie's interest in world dance led her to study classical dance in Java and Bali and to perform with La Meri's Ethnic Dance Arts Company.  She has performed throughout the United States, in England and Indonesia.  Winner of many state and local grants and honors, she is a choreographer who has set ballets on companies across the country, with six of her works placed on the National Choreography Plan for Regional Dance America.  A student of Kathy Grant and Jillian Hessel, she is certified in Polestar's Allegro and post-rehabilitation Pilates programs.  Amelie is also a certified Gyrokinesis instructor and a graduate of the American Ballet Theatre teacher training program.
Instructor of: Pilates
ahunter@occ.cccd.edu, 714-432-5506 x.6