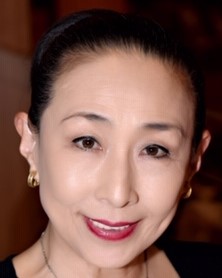 Hiroko Hojo, a native of Japan, started studying traditional Japanese dance in the renowned Fujima School at age 4.  She received her dance title of achievement(Yumino Fujima) in 1975, and her performances were regularly presented at the National Theater in Japan, Tokyo, and on numerous TV programs in Japan during the 1980s.                 
In 1985, 

Hiroko

 was invited to perform in the United States as a guest artist at the World Music Festival hosted by the California Institute of the Arts.   Following this performance, she was accepted by Cal Arts as a dance student with a full scholarship and earned her bachelor's degree (1988) and Master's degree (1990) there, both in Fine Arts.  Upon graduation, she became a Cal Arts faculty member for three years, teaching traditional Japanese dance.  She became a permanent United States resident (1995) by way of the prestigious Extraordinary Achievement category.  
In the past 30 years, Hiroko has expanded her dance studies within the genres of ballet, modern dance, Balinese and Javanese dance, as well as international-style ballroom dance. In the greater Los Angeles area, she has produced numerous choreographic works.  She also has developed courses within the CSU and community colleges teaching various dance forms. Ms. Hojo has performed at prestigious venues such as Disney Hall, The Japan America Theater, and California Plaza. She has also been teaching yoga with the Yoga Alliance 200-Hour Certified since 2004. 

Hiroko has been a recipient of several awards as both a solo artist and a faculty member.  In 1987, she was honored with a "Meritorious Achievement Award" by the National Broadcasting Company (NBC). In 1997, she was nominated for the Lester Horton Dance Award. In 2015, Hiroko received a "Distinguished Faculty Award" from El Camino College.  Over the years, she has received several certificates of recognition and appreciation from Los Angeles area community colleges. 
Hiroko

 is excited to share both her expertise and her journey with you. 

Instructor of: Appreciation of Dance

hhojo@occ.cccd.edu