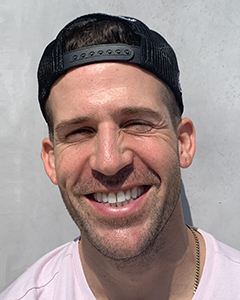 Zachary Groenewold is a dance educator and choreographer based out of Southern California. As a faculty member of the Chapman University, Cal Poly Pomona, Mt. San Antonio and Orange Coast College dance departments, he specializes in jazz/contemporary and hip hop techniques. Zach began dancing at a young age where he was fortunate enough to perform in a variety of media including New Line Cinema's The Wedding Singer, a commercial for Saban's Power Rangers, and as part of ABC FAMILY presents WESTLIFE : LIVE.
As a performer, Zach was a member of the San Diego based company Axxiom Dance Collective, during this time he was selected to represent the company as a soloist. In 2010, Zach became a member of Team Millennia and in 2012, his dancing and leadership skills earned him the position on the team's artistic board. During his two years in the position, his leadership helped head the team to 1st place at San Diego's prestigious Fusion Dance Competition, as well as placing top 5 at other dance competitions, including World of Dance LA and Ultimate Brawl. During this time Zach was also fortunate enough to perform and choreograph in a variety of venues including LA Fashion Week, OC Fashion Week, the World of Dance Industry Awards, and Vidcon.
Zach is currently performing as a member of Kings and Queens dance company. In 2018, his work "Focus" received high praise from the American College Dance Association, and was selected for national performance at the Kennedy Center in Washington D.C. He is a sought after choreographer and guest teacher, with credits across the country, as well as internationally, reaching all the way to Taipei, Taiwan. Zach obtained his Master's degree in Dance Education from the University of Northern Colorado.
Instructor of: Hip-Hop, Contemporary Commercial