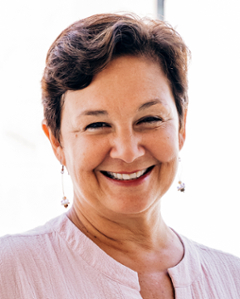 A multi-cultural woman, originally from Hawaii, Rachel Berman (she, her, hers) has had a diverse career in all aspects of the field of dance, the bulk of which was a decade spent performing principal roles with the Paul Taylor Dance Company. She has also performed with, among others, Ballet Hispanico, May O'Donnell, The American Repertory Dance Company, The Joyce Trisler Danscompany, and the hula companies of Nā Lei Hulu I Ka Wēkiu and Pua Aliʻi ʻIlima O Nuioka.  She has appeared in numerous television productions with the Taylor Company and was featured in the Academy Award nominated documentary DANCEMAKER. 
Ms. Berman served as Associate Producer for Dancers Responding to AIDS, Company Manager for Company C Contemporary Ballet, the Development Officer for the Paul Taylor Company and was the Programs Manager at Dance/NYC, a dance advocacy organization which works in alliance with the National service organization, Dance/USA. She is often a freelance writer for Dance Magazine, Dance Teacher and Dance Studio Life. She has re-staged Mr. Taylor's works on universities and professional companies throughout the United States and is herself a choreographer. Ms. Berman has been on faculty at the Joffrey Ballet/ New School BFA program, Mid-Pacific School of the Arts, LASALLE-SIA Singapore College of the Arts, the American Dance Festival, University of the Arts, the Colburn Dance Academy, California Institute of the Arts, Mills College, University of Nevada, Las Vegas, and the Taylor School.
She is currently chair of the dance department at Orange Coast College and teaches at the William J. Gillespie/ American Ballet Theatre school at the Segerstrom Center for the Arts.  She is the co-director of LA MOVES - a summer dance Intensive at USC. Ms. Berman earned a BFA from Purchase College and an MFA from Hollins University/American Dance Festival. She is certified through Level 5 of the American Ballet Theatre National Training Curriculum® and is a 200-hour Certified Yoga Teacher.
Instructor of:  Ballet, Modern, Dance Methodologies, Choreography, Repertoire, Polynesian, Dance Profession Seminar, Yoga, World Dance and Cultures, and Appreciation of Dance
rberman3@occ.cccd.edu, (714) 432-5691