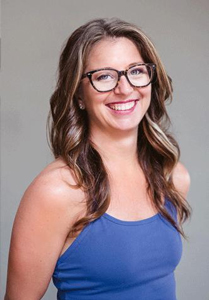 Amythyst Fritzler​, a native of Southern California, trained at Orange Coast College before earning her BA (2006) and MA (2013) in dance from California State University, Long Beach. From CSULB she was awarded the Margot Fonteyn Memorial Scholarship.  She received her Pilates certification from Long Beach Dance and Conditioning (2003), GYROTONIC® Methodology license (2010), and 200-hour Yoga Certification (2022). 
In addition to teaching Modern dance, Pilates and supplemental courses towards the Pilates Certification offered at Orange Coast College, Amythyst also teaches at Cerritos College and Cal State University Long Beach, teaching Yoga, Pilates, stretch courses, and social dance forms. 
Privately, Amythyst runs her own business where she teaches Pilates and the GYROTONIC® Methodology for fitness and rehabilitation. 
She has had the pleasure of performing the works of noted choreographers in California and New York including Bradley Lindberg, Louis Cornejo, Linda Sohl-Ellison, Amelie Hunter, Damon Patrick Rago, Doug Nielsen, Sharri Brookler, Colleen Dunagan, Delyer Coffman, and Michael Nickerson-Rossi.  Amythyst was a founding member of both the Nickerson-Rossi Dance Company and the Assembly and also has performed with the Palindrome Dance Company.  Her own choreography has been presented at Orange Coast College, Golden West Invitational, Kinesis and Nectar dance performances, as well as, the American College Dance Festivals (ACDF). 
Instructor of: Modern, Pilates