Rosa Garcia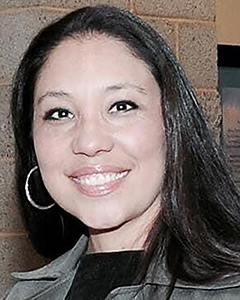 Originally from Santa Ana, CA, Rosa Garcia has degrees in dance from CSULB and New York's Alvin Ailey American Dance School paid by scholarships. She is the recipient of the Donald McKayle Medal Scholar from UC, Irvine with a MFA in Dance Choreography. Her passion in education brought her back to Southern California to give back to her community. Her passion in teaching dance of various styles has become a journey for her in becoming an eclectic teacher for over 30 years in higher education. Seventeen of those years, she developed dance programs for ages 1 and up for various organizations and community venues. She coaches, mentors her college students where she teaches to develop entrepreneurial skills and choreographing for Quinceañeras. Mrs. Garcia was appointed by Santa Ana City Councilman Jose Solorio to serve as Commissioner of the Arts & Culture for a 4-year term. She's been an Ambassador for JazzXchange – Shinning Stars held at UCI and serves on the non-profit board. 
Ms. Garcia has performed for various venues and for many award-winning choreographers such as Loretta Livingston for the "Cesar Chavez's Si Se Puede!" and Marie de la Palme featured in a film documentary, "Rhythms of Peace" premiered at the Newport Film Festival 2007. 
At OCC, Ms. Garcia teaches Flamenco Dance. Her first Flamenco Dance teacher was Maestro Juan Talavera, Maestro Mariano Parra (New York), Yaelisa (California), and Dr. Nancy Ruyter (UCI and Author of "La Meri"). She's performed Flamenco solos for various venues including the Barclay Theater. 
Instructor of: Flamenco