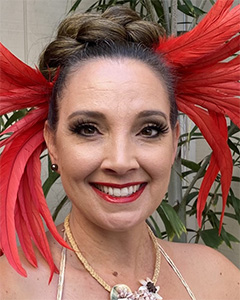 Marru Mikaelian has been studying the art of Polynesian dance since age 6. Born and raised in Huntington Beach, California, she fell in love with the Hawaiian culture during family trips to Maui and embraces many different forms of Polynesian dance. She has studied dances from the islands of Hawaii, Tahiti, Aotearoa (New Zealand), Samoa and the Cook Islands. Marru holds a B.S. Degree in Biology from UCLA.
Marru has been performing for over 30 years and is currently a lead dancer, choreographer, and instructor for Tupua Productions under the direction of Melody and Stephen Seanoa. As an individual performer, she has won several awards in various Tahitian dance competitions and was invited to dance in the Heiva i Tahiti in 2012 with Tahitian group Ahutoru Nui. She has participated in televised events such as the Rose Parade and the Nickelodeon Kids' Choice Awards.
It brings her great joy to perform, teach and share her passion of Polynesian dance with others. 
Instructor of: Polynesian, Performing Dance Ensemble