Día de los Muertos - Marigold Sale Friday October 27th, 2023! 10 am to 3 pm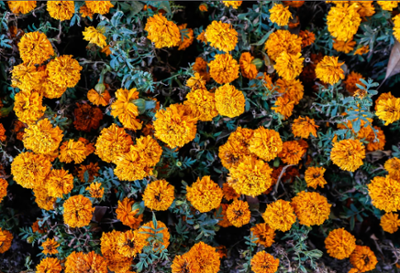 The Day of the Dead, or Día de los Muertos, is a holiday that honors and remembers deceased loved ones. It is celebrated annually in Mexico and throughout Latin America. The holiday is traditionally celebrated on November 1 and 2, but other days may be included depending on the locality.
Día de los Muertos is a joyful time when families gather to remember their deceased relatives. It is believed that the souls of the dead return to their homes to be welcomed by their relatives. The holiday is especially popular among Roman Catholics.
It's deeply rooted in pre-Hispanic Aztec rituals tied to the goddess Mictecacihuatl, or the Lady of the Dead, who allowed spirits to travel back to earth to commune with family members. That tradition was blended with the Roman Catholic observance of All Saints Day by the Spaniards when they conquered Mexico.
Día de los Muertos is celebrated with colorful calaveras (skulls) and calacas (skeletons). The traditional Mexican pastry, pan de muerto, or bread of the dead, is placed on altars as an offering and eaten throughout October.
Family members of the deceased build sentimental altars in their homes, and in the cemetery where their loved ones are buried, to pay homage to their lives. Rather than grieve their loss, they celebrate the lives of their loved ones.  The ofrenda (altar) is accented with photos of the dead, candles, bottles of mezcal and tequila, food, sugar skulls, and the cempasúchil — the Aztec name of the marigold flower native to Mexico.
The musky fragrance of the bright orange and yellow flowers is said to lead souls from their burial places to their family homes. The cheerful hues also add to the celebratory nature of the holiday.
​PLEASE COME TO OUR "Día de los Muertos" MARIGOLD CELEBRATION!!
October 27th, 2023, 10 am to 3 pm in the
Horticulture Department at Orange Coast College.