The Frank M. Doyle Arts Pavilion presents transformative experiences through the arts by focusing on contemporary visual culture and creates dynamic programming that inspires interaction and dialogue between artists, students, scholars, and local and international communities. Designed by architect Steven Ehrlich the Doyle Arts Pavilion is OCC's on campus contemporary arts gallery that features a Main Gallery and Project Gallery. The Doyle is a department in Orange Coast College's Performing & Visual Arts Division. Free admission is offered in order to make these experiences accessible for everyone.    

Plan a Visit
FREE ADMISSION EVERYDAY AND TO EVENTS
Mon to Thurs: 11 a.m. - 5 p.m.
First Saturdays, Mar. 4, 2023, Noon - 4 p.m.
Fri, Sat & Sun: Closed other than selected First Saturdays
Closed Campus Holidays: Feb. 17, 20, 23 in spring 2023
If you insert the gallery into a map program, the default address is for the college, 2701 Fairview Rd., Costa Mesa, CA 92626, which will take you to a side of campus opposite the location of The Doyle. The following directions will bring you to the parking lot that is closer:
Coming from 405 Freeway; Exit: Fairview, turn (RIGHT, if coming south on 405, or LEFT, if coming north on 405, off ramp onto Fairview, going south; Drive about a mile on Fairview, passing over Adams, seeing OCC campus on right, pass 3 entrances to parking lots, then right on to Merrimac Way off Fairview, then down to second, third and fourth parking lot entrances, turning RIGHT into either for Parking Lot D.
Parking is free everyday on campus for Spring 2023 only in student parking areas.
Otherwise, parking is free during exhibition receptions and on Saturdays in both staff and student areas, only in Parking Lot D. During regular gallery hours, park in metered parking near the Fine Arts Building, two buildings down from The Doyle.
The Doyle is located between Starbucks and the Art Center classroom building on campus, building 180, bottom-center on the campus map.
View of The Doyle from parking lot, section D9. Entrance is around the front.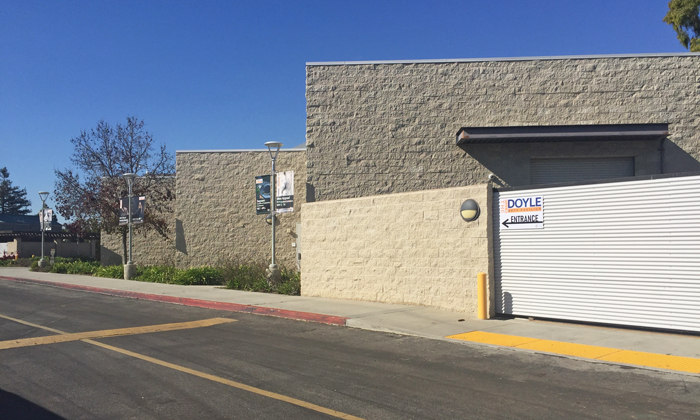 Contact
Office Hours
Mon - Thurs: 10 a.m. - 5 p.m., or by appointment
Director / Senior Curator: Tyler Stallings
Call: (714) 432-5738 for information.
Email: doyleartspavilion@gmail.com
Follow the Doyle Arts Pavilion
About the Doyle